Of Books, and Earth, and Courtship
A short story set in the world of the Dominion of the Fallen, Of Books, Earth and Courtship charts the first meeting between magician-in-training Selene and House archivist Emmanuelle–and the unexpected adventure they find themselves thrown into!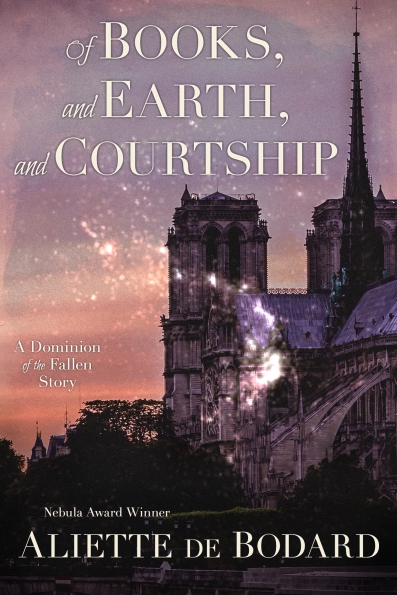 I'm putting it out as a ebook: it's up with most major retailers.
What you get: a caper/adventure, a glimpse at the inside of House Harrier (near Grenelle in the 15e Arrondissement, for the curious)–and more Emmanuelle, Selene and Morningstar, of course. Magic, infiltration, and explosions! (well, a teensy little explosion *g*).
In a Paris that never was, a city of magical factions where Fallen angels mingle with magicians, alchemists and witches…
Emmanuelle is the Fallen archivist of House Silverspires, and only wants a quiet life with her books. But when Selene, the latest student of Lucifer Morningstar, walks into the library, Emmanuelle finds herself drawn in an adventure to steal from another House. It's a thrilling and dangerous task, but the most dangerous thing about it might just be Selene herself–aloof and resourceful, and unexpectedly attractive…
Set in the universe of the critically acclaimed The House of Shattered Wings.
Excerpt:
The Fallen came into the library of House Silverspires every morning, and every morning she would go into the stacks and come back with a pile of dusty books smelling of old, cracked leather, and sit down at the furthest table, staring at the books as if she could make them cooperate with a mere glance. By the looks of it–she was still sitting at the table hours afterwards, perhaps a third of the way into the first or second book–it was not going well.

Emmanuelle knew who she was, of course. Everyone did: Selene, Morningstar's latest student–his latest pride, before he grew bored of her and cast her aside; as he had cast aside all his other students. She walked tall and straight; wearing men's clothes, a set of black trousers and a swallowtail jacket, both impeccably pressed and arranged with a meticulousness that was more frightening than alluring.

Buy Now