On a Red Station, Drifting
A novella set in the Hugo-award nominated series The Universe of Xuya: On a Red Station, Drifting. On the Locus Recommended Reading List for 2012; and a finalist for the Hugo, Nebula and Locus Awards for Best Novella. 
This was out in a limited hardback edition from Immersion Press in the UK, which is sadly out of print. I've put out an ebook edition, which you can get from most major ebook retailers. There is also a print on demand edition, available through Createspace.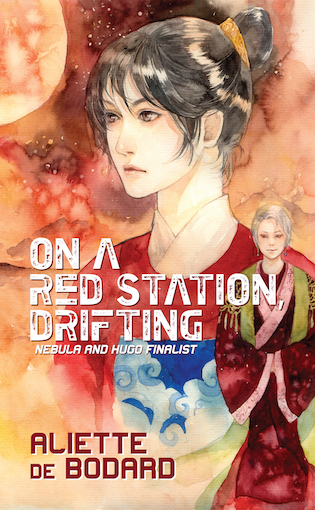 Buy Now
For generations Prosper Station has thrived under the guidance of its Honoured Ancestress: born of a human womb, the station's artificial intelligence has offered guidance and protection to its human relatives.

But war has come to the Dai Viet Empire. Prosper's brightest minds have been called away to defend the Emperor; and a flood of disorientated refugees strain the station's resources. As deprivations cause the station's ordinary life to unravel, uncovering old grudges and tearing apart the decimated family, Station Mistress Quyen and the Honoured Ancestress struggle to keep their relatives united and safe. What Quyen does not know is that the Honoured Ancestress herself is faltering, her mind eaten away by a disease that seems to have no cure; and that the future of the station itself might hang in the balance…
Read an excerpt here!
Authors' notes, notably geeking out on the Chinese classic Dream of Red Mansions, here.
If you're interested, there's a loose sequel forthcoming in the Oct/Nov 2015 issue of Asimov's, set in the Dai Viet Imperial Court, and which has a cameo by Linh. More info (including a rough cover copy) here.