Book 1: Servant of the Underworld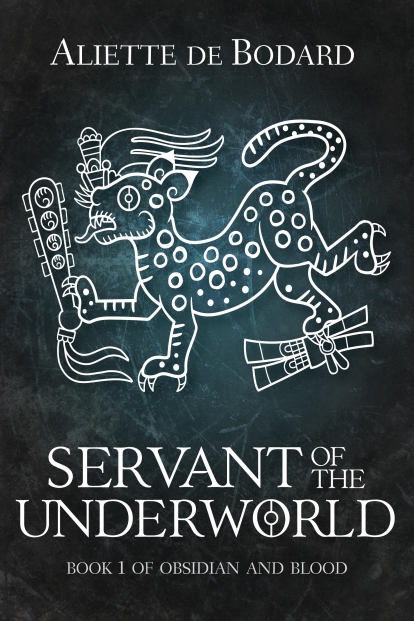 (Art direction: Rhiannon Rasmussen-Silverstein. Cover design: Melanie Ujimori and Jonathon Dalton)
The first book in the critically acclaimed Obsidian and Blood trilogy:

Year One-Knife, Tenochtitlan the capital of the Aztecs. Human sacrifice and the magic of the living blood are the only things keeping the sun in the sky and the earth fertile.

A Priestess disappears from an empty room drenched in blood. It should be a usual investigation for Acatl, High Priest of the Dead–except that his estranged brother is involved, and the the more he digs, the deeper he is drawn into the political and magical intrigues of noblemen, soldiers, and priests–and of the gods themselves…
Buy Now
---
Watch the trailer:

---
Servant of the Underworld, Aliette's first novel, is a historical fantasy/mystery set in Aztec times. The idea for this came from a couple of short stories Aliette wrote featuring death-priest-cum-investigator Acatl, bringing together the little-used Aztec mythology and the tropes of mystery fiction.
Servant of the Underworld is the first book in a three-book series, now published as ebooks with JABberwocky Agency.
---
What they're saying:
"An Aztec priest of the dead tries to solve a murder mystery, and finds that politics may be even more powerful than magic. A vivid portrayal of an interesting culture in a truly fresh fantasy novel."

        Kevin J. Anderson, New York Times bestselling coauthor of THE WINDS OF DUNE.
"Amid the mud and maize of the Mexica empire, Aliette de Bodard has composed a riveting story of murder, magic, and sibling rivalry."

        Elizabeth Bear, author of ALL THE WINDWRACKED STARS
"A gripping mystery steeped in blood and ancient Aztec magic. I was enthralled."

        Sean Williams, New York Times bestselling author of THE BROKEN LAND and THE BOOKS OF THE CHANGE series
"An amazingly fresh and engaging new voice in fantasy: the shadows of the Aztec underworld drip from these pages."

        Tobias Buckell, author of SLY MONGOOSE and RAGAMUFFIN
---
Want to find out more?
Read the Acatl short stories, set in the same universe as the novel:
Read an interview over at Bibliophile Stalker, in which Aliette talks about the novel