Of Charms, Ghosts and Grievances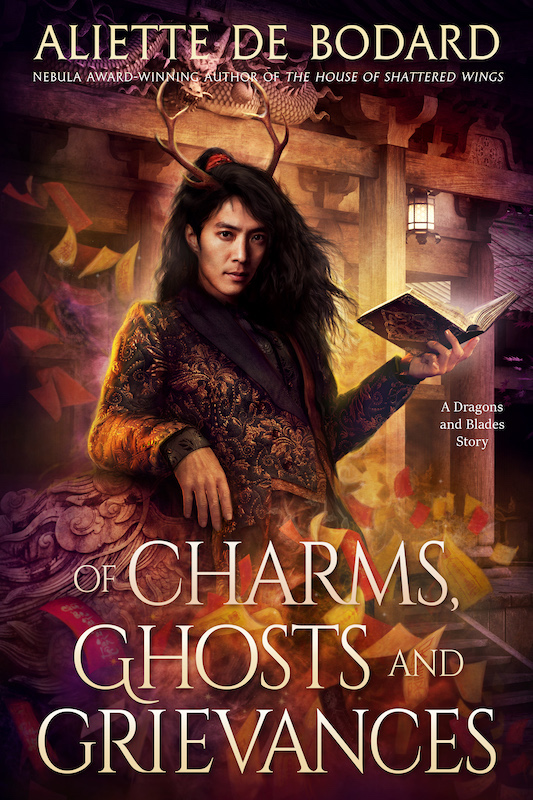 A book where a hot murdery Fallen angel and his husband, a cinnamon roll dragon prince, try to have a relaxing holiday. Predictably, hijinks ensue. Thuan, the aforementioned dragon prince, survived an arranged marriage which turned into a loving relationship–but can Thuan now survive his husband's approach to babysitting?
A mix of dark fantasy, comedy of manners and a homage to Heaven Official's Blessing and The Untamed–dark Gothic fantasy, Vietnamese-style.
It's a book about navigating tense relationship issues, about family, about parenting and about having to protect and care for children while in the midst of fraught and dangerous things. It's about dragons (the Chinese/Vietnamese kind), ghosts, charms and murders.
Content note: no harm comes to the children.
(Art and cover design: Ravven)
Winner of British Science Fiction Association Award, Best Short Fiction
Official blurb:
From the author of the critically acclaimed Dominion of the Fallen trilogy comes a sparkling new romantic adventure full of kissing, sarcasm and stabbing.
It was supposed to be a holiday, with nothing more challenging than babysitting, navigating familial politics and arguing about the proper way to brew tea.
But when dragon prince Thuan and his ruthless husband Asmodeus find a corpse in a ruined shrine and a hungry ghost who is the only witness to the crime, their holiday goes from restful to high-pressure. Someone is trying to silence the ghost and everyone involved. Asmodeus wants revenge for the murder; Thuan would like everyone, including Asmodeus, to stay alive.
Chased by bloodthirsty paper charms and struggling to protect their family, Thuan and Asmodeus are going to need all the allies they can—and, as the cracks in their relationship widen, they'll have to face the scariest challenge of all: how to bring together their two vastly different ideas of their future…
A heartwarming standalone book set in a world of dark intrigue.
A Note on Chronology
Spinning off from the Dominion of the Fallen series, which features political intrigue in Gothic devastated Paris, this book stands alone, but chronologically follows The House of Sundering Flames. It's High Gothic meets C-drama in a Vietnamese inspired world– perfect for fans of Mo Xiang Tong Xiu's Heaven Official's Blessing, KJ Charles, and Roshani Chokshi's The Gilded Wolves. 
Advance praise:
"A darkly delicious romp full of ghosts, murder, dragons, and romance, with a couple that just keeps getting better and better as they push each other to new limits."
Stephanie Burgis, author of Snowspelled and Scales and Sensibility
"Beautifully described, deeply caring, and satisfyingly murderous, it's an immersive delight."
KJ Charles, author of the Will Darling Adventures
"This one has everything… I gulped it down when I should have savoured it like a delicate tea, but what can I say."
Freya Marske, author of A Marvelous Light
"An utter delight… Cosy coffee shop au style fantasy but with higher stakes. The perfect standalone fantasy novella."
Netgalley reviewer
"Like settling in with a weighted blanket and a cup of tea, with a side of supernatural whodunits."
Netgalley reviewer
"A hefty dash of emotional struggle, knives, and romance… The babysitting scenes alone had me grinning like a loon. My heart didn't know it needed the scenes with Asmodeus and Thuan being uncles to Camille and Ai Nhi but it did. It's now a huge pile of goo because of all the stabbiness and cuteness!"
Netgalley reviewer
Buy Now