Aliette de Bodard
Writer of Science Fiction and Fantasy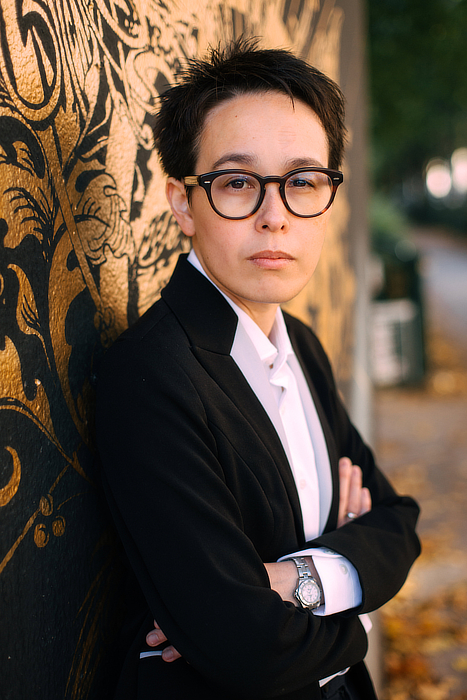 This is the home page of Aliette de Bodard, writer of fantasy and science fiction (and the very occasional horror piece). Aliette has won three Nebula Awards, an Ignyte Award, a Locus Award, a European Science Fiction Society award, a British Fantasy Award and six BSFA (British Science Fiction Association) Awards.
She is the author of the upcoming A Fire Born of Exile, a sapphic Count of Monte Cristo set in space, and of The Red Scholar's Wake (2022 BSFA Award finalist, 2022 Locus Award finalist), a lesbian space pirates romance set in Vietnamese-inspired galactic empires.
She also wrote the sapphic romantic fantasy Fireheart Tiger (2021 BSFA Award winner, Hugo, Ignyte, Stabby and Nebula Award finalist), in which a diplomat princess faces her former lover and must decide the future of her country–and her own.
She is well-known for the multi-award-winning, Hugo-award nominated series The Universe of Xuya, Vietnamese-inspired space opera with sentient spaceships: a complete list of these stories and some additional background information can be found here. Short novels set in this universe include Seven of Infinities (Subterranean Press, October 2020, Locus Award finalist), and Nebula-award winning The Tea Master and the Detective.
Finally, she is the author of the Dragons and Blades series, comedies of manners, murders and family shenanigans set in a Gothic Vietnamese court, which comprise Of Dragons, Feasts and Murders and Of Charms, Ghosts and Grievances (2022 BSFA Award Winner). 
She lives in Paris, France.
Aliette is represented by John Berlyne of the Zeno Literary Agency: for any enquiry, please contact the agency.
Sign up for the newsletter here.
---
Original Picture Credits Portrait: Chloé Vollmer-Lo
---
Out Now: A Fire Born of Exile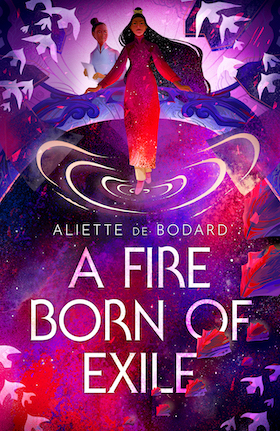 A Fire Born of Exile is a sapphic Nirvana in Fire/Count of Monte Cristo in space.
Out now from Gollancz in hardback/ebook/audio (UK/Europe/Commonwealth) and JABberwocky Literary Agency, Inc in paperback/ebook (US & Canada)!
A scholar, betrayed and left for dead, returns in disguise for revenge. She plans to bring the entire opulent, decadent society of the habitats crashing down.
Falling in love wasn't part of the plan.
More information about A Fire Born of Exile here.
(Cover: Alyssa Winans)
Out Now: Of Charms, Ghosts and Grievances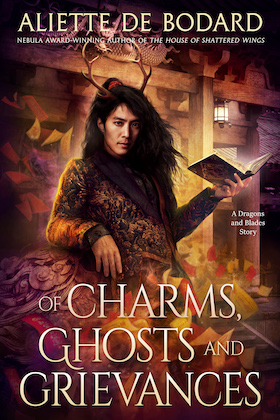 A hot, murdery Fallen angel...
His husband, dragon prince, cinnamon roll, book and diplomacy lover...
They wanted a relaxing holiday. It did not quite pan out that way...
Thuan, the aforementioned dragon prince, survived an arranged marriage which turned into a loving relationship--but can Thuan now survive his husband's approach to babysitting?
More information about Of Charms, Ghosts and Grievances here.
(Cover: Ravven )
Find me on Mastodon (public) and Project Mushroom (private).