Seven of Infinities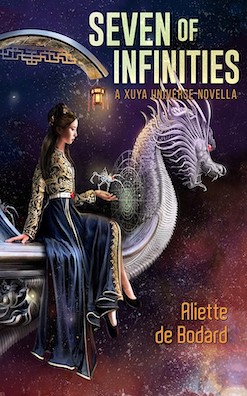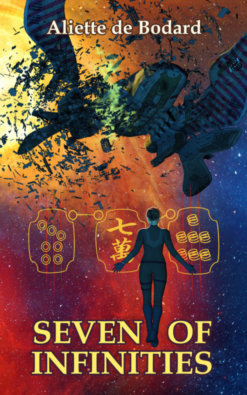 (art: Maurizio Manzieri and Dirk Berger, respectively)
Out now from Subterranean Press, the new Xuya book!
One disillusioned sentient spaceship, master thief and master of disguises…
One poor and principled scholar, caught in a web of murder and greed…
They're attracted to each other, but it's fine: they've got it totally under control! #famousLastWords
Out now from Subterranean, with cover by Maurizio Manzieri–an f/f murder & heist & romance with two Vietnamese main characters. Get your copy now!
Locus Award Finalist, 2020, Best Novella
Buy Now
All right, all right, there's official cover copy, too:
Dust jacket illustration by Maurizio Manzieri.
Aliette de Bodard follows up her award-winning Xuya universe novella, The Tea Master and the Detective with Seven of Infinities, an even longer foray into her singular creation.
About the Book:
Vân is a scholar from a poor background, eking out a living in the orbitals of the Scattered Pearls Belt as a tutor to a rich family, while hiding the illegal artificial mem-implant she manufactured as a student.
Sunless Woods is a mindship—and not just any mindship, but a notorious thief and a master of disguise. She's come to the Belt to retire, but is drawn to Vân's resolute integrity.
When a mysterious corpse is found in the quarters of Vân's student, Vân and Sunless Woodsfind themselves following a trail of greed and murder that will lead them from teahouses and ascetic havens to the wreck of a mindship–and to the devastating secrets they've kept from each other.
Now in a UK and commonwealth ebook edition!
"With this lush, immersive sci-fi tale, de Bodard (The House of Sundering Flames) delves into a world as gritty as it is ethereal… [R]eaders will be swept away by the vivid prose, intrigue, and romance of this intricate tale. This fascinating, unusual story is sure to entrance."
Publishers Weekly
"Seven of Infinities is a novella concerned with forgiveness, deserved or not, about cages, self-made or otherwise. It concerns itself with growth, with grace, with ruthlessness and its costs and consequences. It's a tightly written jewel of a story, intense and full of feeling, and I recommend it highly."
Liz Bourke, Locus
"A magnificent sf mystery, nuanced, intense, and romantic, with a complex, clever plot nested inside de Bodard's rich, evocative, and vivid Xuya universe."
Kate Elliott, author of Unconquerable Sun and Cold Magic
Buy Now