In the Vanishers' Palace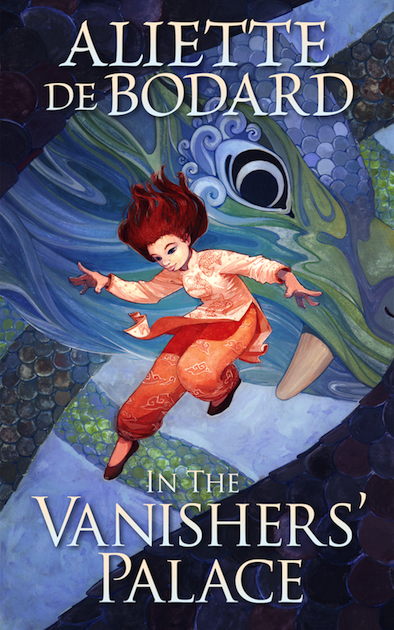 A dark Beauty and the Beast retelling, where they are both women and the Beast is a dragon. Aka "f/f dragon ship" aka "dark sapphic rellings are the best".
Finalist for Lammy Award 2018, "LGBTQ SF/F/Horror"
Buy now
Cover art by Kelsey Liggett, cover design by Rhiannon Rasmussen-Silverstein and Melanie Ujimori. Dragon watercolour & ink art: Likhain
Published worldwide by JABberwocky Ebooks. Also there is a (gorgeous) print edition!
From the award-winning author of the Dominion of the Fallen series comes a dark retelling of Beauty and the Beast.
In a ruined, devastated world, where the earth is poisoned and beings of nightmares roam the land…
A woman, betrayed, terrified, sold into indenture to pay her village's debts and struggling to survive in a spirit world.
A dragon, among the last of her kind, cold and aloof but desperately trying to make a difference.
When failed scholar Yên is sold to Vu Côn, one of the last dragons walking the earth, she expects to be tortured or killed for Vu Côn's amusement.
But Vu Côn, it turns out, has a use for Yên: she needs a scholar to tutor her two unruly children. She takes Yên back to her home, a vast, vertiginous palace-prison where every door can lead to death. Vu Côn seems stern and unbending, but as the days pass Yên comes to see her kinder and caring side. She finds herself dangerously attracted to the dragon who is her master and jailer. In the end, Yên will have to decide where her own happiness lies—and whether it will survive the revelation of Vu Côn's dark, unspeakable secrets…
Buy now
Here's some fan art of Yến and Vũ Côn by Laya Rose: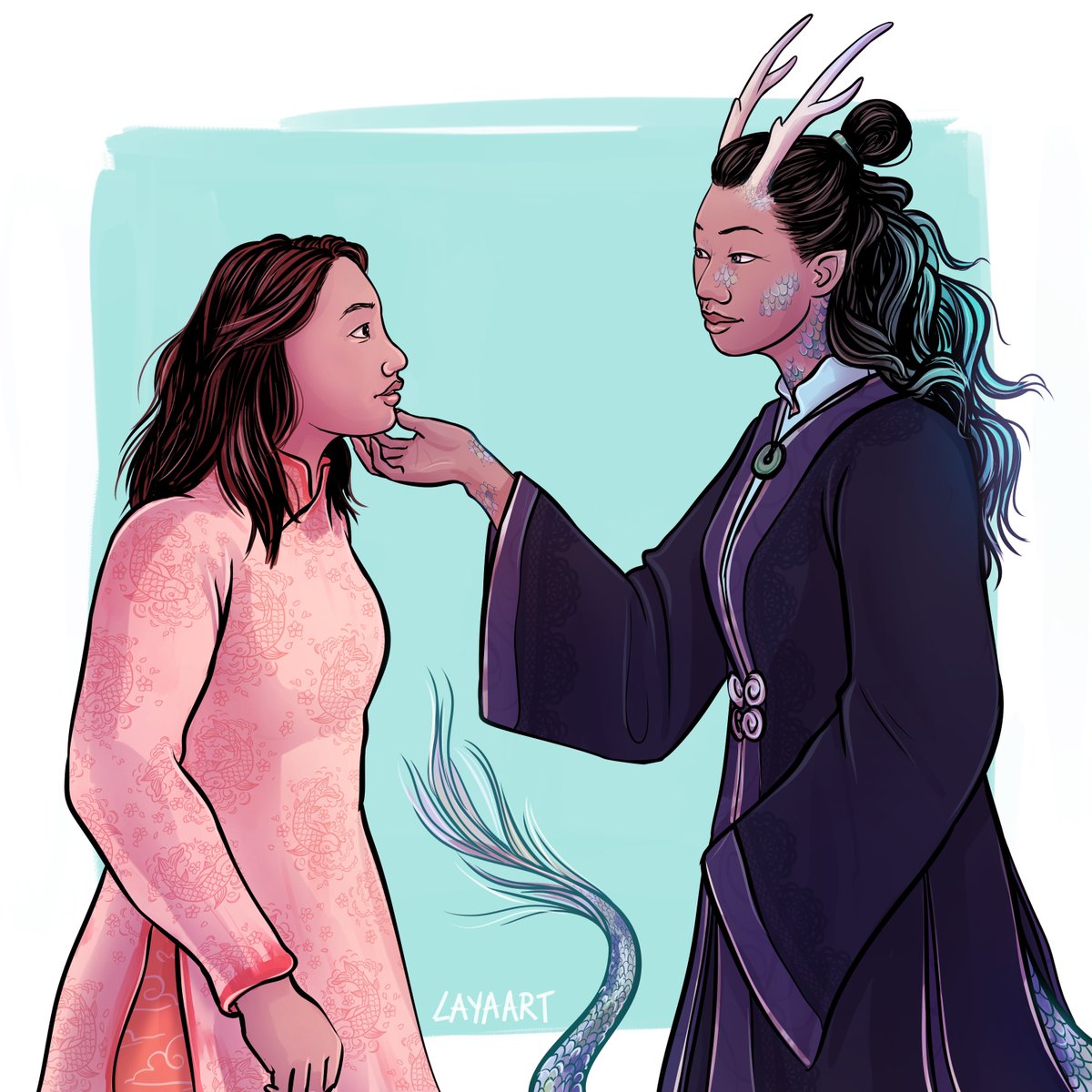 Reviews and praise
Gorgeously atmospheric queer fantasy (…) Like Jane Eyre if Rochester was a woman plus a dragon.
Zen Cho, author of The Terracotta Bride and Sorcerer to the Crown
Another stellar offering by Bodard. Her signature intensity is on display in this tale of people (and dragons) struggling to survive in the ruins of an alien conquest. Emotionally complex relationships interweave with richly drawn and deftly nuanced world-building.
Kate Elliott, Author of the Court of Fives series
A transformative experience. With dragons.
Fran Wilde, Hugo and Nebula nominated author of The Bone Universe and The Gemworld series
Gorgeously written… A postcolonial postapocalyptic f/f Beauty and the Beast where the Beast is a dragon & the castle is Escherspace… amazing idtastic scenes worthy of anime.
Likhain, Hugo-award nominated artist
one of my favourite books of the year.. a gorgeous, precise, and searing queer re-invention of the Beauty and the Beast story. I loved it. It's exactly the story I needed to read, and every time I go back to it (even to check spelling), it draws me in again. I really can't recommend it highly enough.
Superbly depicted with magnificent economy… understated but intense… beautifully realised. This author's novellas are masterclasses in storytelling, worldbuilding and imagination packed into small spaces. Hugely recommended.
I always love a good re-imagining of my favourite fairy tale, and this one is exceptional—dark, ethereal, and enchanting.
intriguing… recommended for fans of de Bodard's previous works, or for readers who enjoy diverse, lushly described fantasy.
Library Journal
the bar was high, and In the Vanishers' Palace easily cleared it… An atmospheric gem of a retelling. Do yourself a favor and pick up a copy.
I am feeling particularly blessed by Aliette de Bodard this year… she graces us with this stunning f/f retelling of Beauty and the Beast in which the Beast is a dragon, with an all-Vietnamese, almost all-female (and non-binary) cast, and I. am. in. love. .. I need a physical copy of this book, and so do you.
Cécile O., Netgalley
As a reframing of a classic fairy tale, In the Vanisher's Palaceis subversive and bold; as a romance, it is tentative, touching, and sweet.

Joel Cunningham, Barnes and Noble

Every bit as glorious it sounds: a post-apocalyptic f/f Beauty and the Beast. A battle between fear, desire, duty and respect. Also, DRAGONS. Haunting and beautiful.
A dark gender-fluid recasting of Beauty and the Beast with multidimensional dragons that just falls over into novella length and should be on awards ballots
Jonathan Strahan, The Best Science Fiction and Fantasy of the Year
Buy now
Add the book on goodreads
Need more (spoiler-free) info? Here are the AO3 tags for the book:
bi character, lesbian character, non-binary characters, no bury your gays, gruesome death not of main character, righteous paladin scholar of justice, dutybound stern dragon who cares, dragon romance, weird medical shit, monstrous absent masters, escherscape palace, ruins of the world, non Euclidean geometry palace, dragon family, all POC cast, token male character, curious scientist kids, linguistic geekery, magic in writing, entirely too much food, flirting using fruit, all women are badass, badass healers, embarrassing scene in loved one's bedroom, tea and kisses, flirting with the river, healing oneself, all Asian cast, all Vietnamese cast, disastrously impulsive kid, disastrously inquisitive kid, tinkering with deadly stuff, lesbian slash bisexual romance, terrible secrets, kindness is a character's undoing, all the queerness, palace where every door hides death, combo plagues
And here are a couple Pinterest boards for the novel, one from me and one from Lucille from A Dragon in Space
Follow Aliette de Bodard's board In the Vanishers' Palace on Pinterest.
Follow Lucille's board In the Vanishers' Palace on Pinterest.