Of Wars, and Memories, and Starlight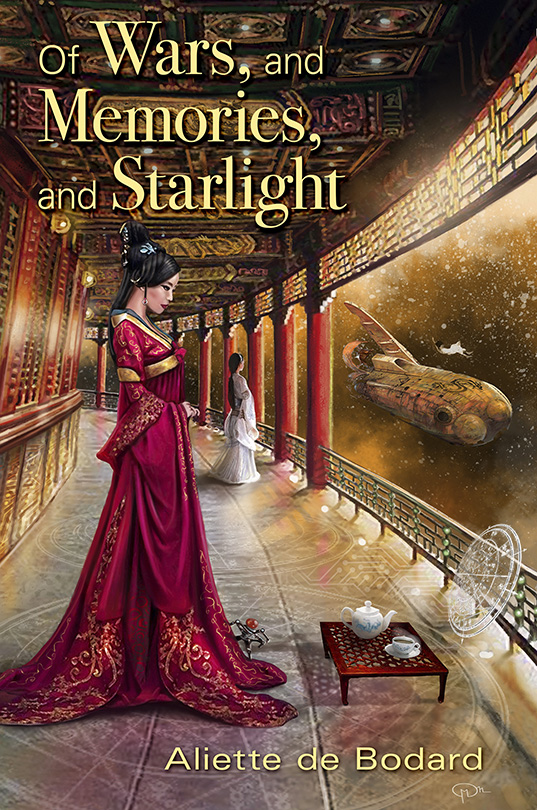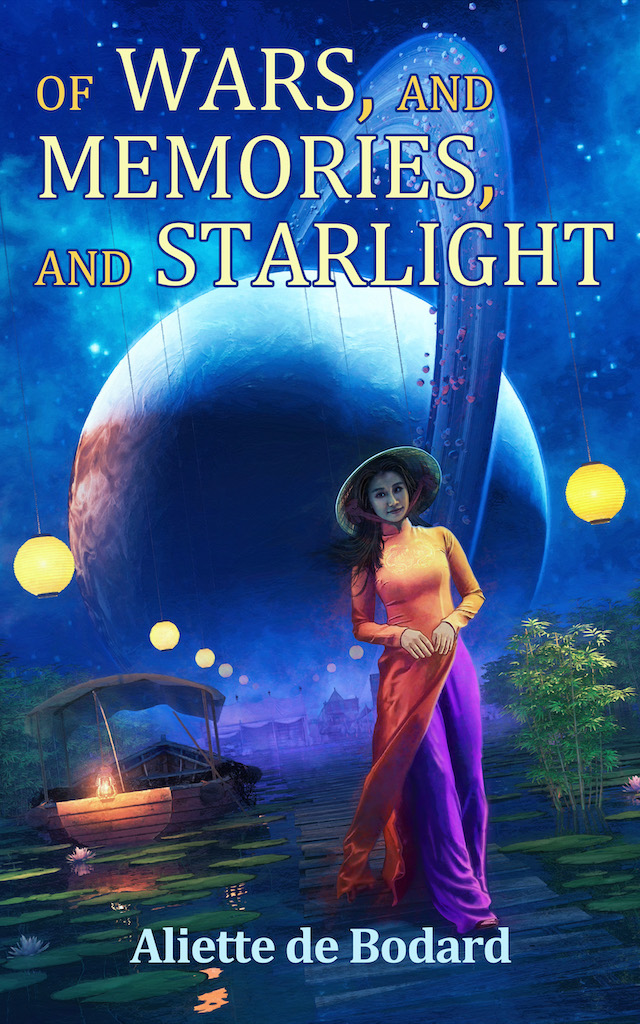 Aliette's first short story collection, now out from Subterranean Press and JABberwocky Ebooks!
The US cover is by artist and friend Maurizio Manzieri, and the cover design by Gail Cross of Desert Isle Design. The UK cover is by Dirk Berger.
A major first collection from a writer fast becoming one of the stars of the genre… Aliette de Bodard, multiple award winner and author of The Tea Master and the Detective, now brings readers fourteen dazzling tales that showcase the richly textured worldbuilding and beloved characters that have brought her so much acclaim. 
Come discover the breadth and endless invention of her universes, ranging from a dark Gothic Paris devastated by a magical war; to the multiple award-winning Xuya, a far-future space opera inspired by Vietnamese culture where scholars administrate planets and sentient spaceships are part of families. 
In the Nebula award and Locus award winning "Immersion", a young girl working in a restaurant on a colonized space station crosses paths with an older woman who has cast off her own identity. In the novelette "Children of Thorns, Children of Water", a shapeshifting dragon infiltrating a ruined mansion finds more than he's bargained for when his partner is snatched by eerie, child-like creatures. And in the award-winning "Three Cups of Grief, by Starlight", three very different people–a scholar, an engineer and a spaceship–all must deal with the loss of a woman who was the cornerstone of their world. 
This collection includes a never-before seen 20,000-word novella, "Of Birthdays, and Fungus, and Kindness", set in Bodard's alternative dark Paris.
Available in a gorgeous hardback edition as well as ebook, and include my favourite stories from the Hugo-award nominated Universe of Xuya, as well as some Dominion of the Fallen fiction set in my Gothic devastated Paris (the universe of The House of Shattered Wings, The House of Binding Thorns and the forthcoming The House of Sundering Flames).
The original novella, "Of Birthdays, and Fungus, and Kindness" is a comedy of manners set in the Dominion of the Fallen universe, where Fallen angel Emmanuelle attempts to throw a relaxing birthday party for her lover, and everything goes wrong in all the worst possible ways. Complete with supernatural fungus in a ballroom, meddling immortals and Emmanuelle desperately trying to keep it all going smoothly in spite of her enemies–and of her friends!
Reviews:
This stunning collection showcases de Bodard's lush worldbuilding, meticulous research, and emotional prose. Whether fans of sf or fantasy, readers will find something to dive into here.
Kristi Chadwick, Library Journal (starred review)
As I finish [this], the conclusion is only strengthened, and Aliette's range as a writer highlighted; able to do both utterly heartbreaking and gentle fun, with an incredibly deft hand, fantastic prose, and intensely human characters
These 14 deeply culture-bound tales, set in the universes of de Bodard's Xuya and Dominion of the Fallen series, evoke heartbreak from sacrifice, the price of peace, and memories lost (…) Readers prepared for melancholy and heartbreak will find them finely crafted here.
Buy Now
The print edition is sadly out of print for this, but there might be copies hanging around in bookstores.