The Red Scholar's Wake
Out now in hardback/ebook/audiobook from Gollancz (UK/Europe/Commonwealth) and paperback/ebook from JABberwocky Literary Agency, Inc (North America), a tale of lesbian space pirates, love, duty and it means to create safe spaces. Black Sails in space, but with more romance and more Vietnamese culture.
Finalist for British Science Fiction Association Award, Best Novel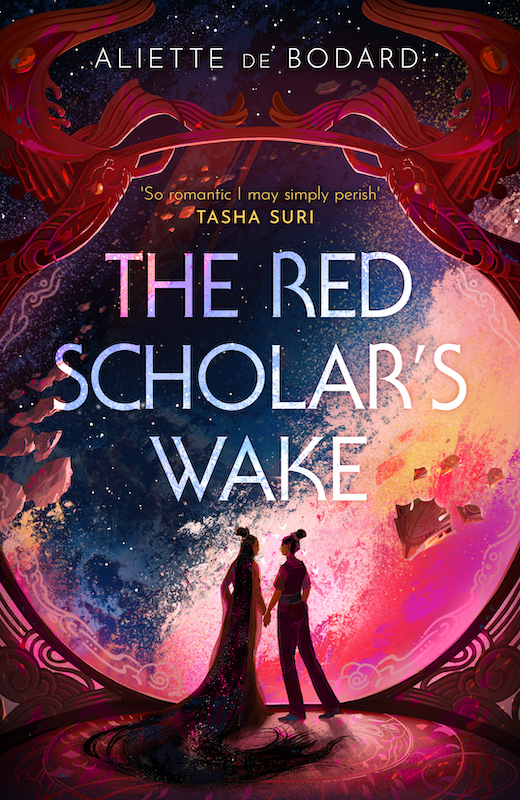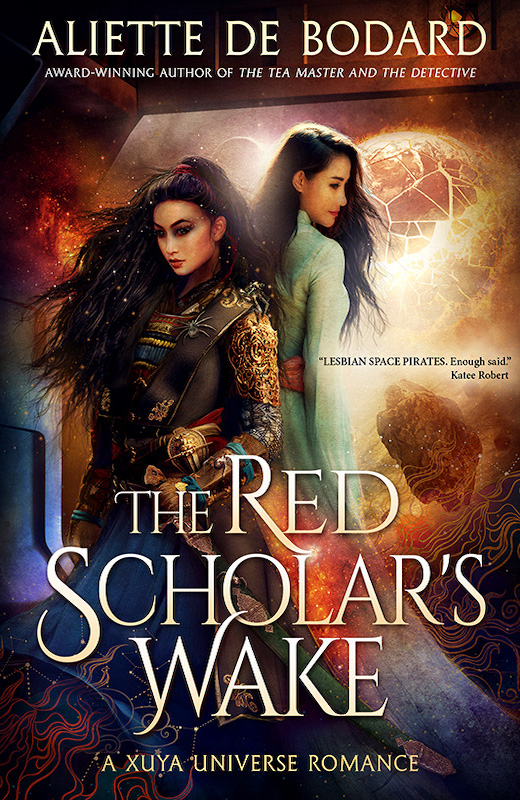 "So romantic I may simply perish" Tasha Suri, author of THE JASMINE THRONE
"LESBIAN SPACE PIRATES. Enough said." Katee Robert, NYT bestselling author of NEON GODS
Xích Si: bot maker, data analyst, mother, scavenger. But those days are over now—her ship has just been captured by the Red Banner pirate fleet, famous for their double-dealing and cruelty. Xích Si expects to be tortured to death—only for the pirates' enigmatic leader, Rice Fish, to arrive with a different and shocking proposition: an arranged marriage between Xích Si and herself.
Rice Fish: sentient ship, leader of the infamous Red Banner pirate fleet, wife of the Red Scholar. Or at least, she was the latter before her wife died under suspicious circumstances. Now isolated and alone, Rice Fish wants Xích Si's help to find out who struck against them and why. Marrying Xích Si means Rice Fish can offer Xích Si protection, in exchange for Xích Si's technical fluency: a business arrangement with nothing more to it.
But as the investigation goes on, Rice Fish and Xích Si find themselves falling for each other. As the interstellar war against piracy intensifies and the five fleets start fighting each other, they will have to make a stand—and to decide what kind of future they have together….
An exciting space opera and a beautiful romance, from an exceptional SF author.
UK cover: Alyssa Winans
US cover: Ravven
Buy Now
Advance Praise:
"So romantic I may simply perish."
Tasha Suri, author of THE JASMINE THRONE
"Space pirates, a marriage of convenience, and a world that feels really fresh–you don't want to miss this one!"
Katee Robert, NYT bestselling author of NEON GODS
"The Red Scholar's Wake takes you on an exhilarating dive into space piracy with passion, politics, dazzling settings, and-even better-a profound core of love transcending hopelessness that rings throughout the story."
Everina Maxwell, author of WINTER'S ORBIT
"The Red Scholar's Wake is a fizzingly inventive space opera, quite unlike anything I've encountered before, and told with style, grace, and a big dose of heart. SF is lucky to have Aliette de Bodard."
Alastair Reynolds, SUNDAY TIMES bestselling author
"a Xuya-verse f/f romance about lesbian space pirates and it's SO GOOD
One of the protagonists is a sentient space ship, and the descriptions of her are absolutely swoon-worthy."
Susan, Smart Bitches, Trashy Books
"Confident, sexy, and touching–The Red Scholar's Wake gives a whole new meaning to the phrase 'star-crossed lovers'!"
Max Gladstone, Hugo and Nebula award-winning author
"Thrillingly exciting and achingly romantic, The Red Scholar's Wake is rich with political intrigue and piratical adventure. It took my breath away!"
Stephanie Burgis, author of SNOWSPELLED and SCALES AND SENSIBILITY
"An epic tale of piracy and romance in the void of space. A new book from Aliette de Bodard is always a treasure."
Gareth L Powell, award-winning author of Stars and Bones
"Intense, gripping, and beautifully-realized."
Kate Elliott, author of UNCONQUERABLE SUN Sun
"A gripping science fiction adventure, full of cool science-fictional ideas, plot twists, and high stakes… Most importantly, this story has heart, with characters you really care about"
Laura J Mixon, author of Up Against It and the Avatars Dance trilogy
Buy Now
FAQ
Is this a Xuya universe book?
Yes it is! It can be read totally independently of the other ones and the plot stands on its own. It's a different book from the others: it's a romantic space opera rather than a mystery book. But it still has sentient spaceships, plenty of worldbuilding, way too much tea and food and the usual hallmarks of a Bodard book.
What about the US print & audio edition?
There is, as of now, no print edition or audiobook edition in the US and Canada. It is ebook only.
ao3 tags
space pirates, disaster lesbians, arranged marriage, there is only one bed, paladin of justice pirate, nerdy engineer, hot sex in space, second chance romance, space mothers, found family, communications disasters, fluff, night out with pirates, angst, hurt/comfort, soulful stargazing with tea and dumplings
Content notes
-Grief (loss of spouse, child estrangement from adult parent)
-Physical abuse against child character (offscreen, not explicit)
-Torture (offscreen, not explicit)
-Imprisonment
-Murder
-Corrupt state and justice system
-Indenture (debt bondage)
-No child death
-Contains sexual content (one explicit sex scene, involves a human and a sentient spaceship)