Of Dragons, Feasts and Murders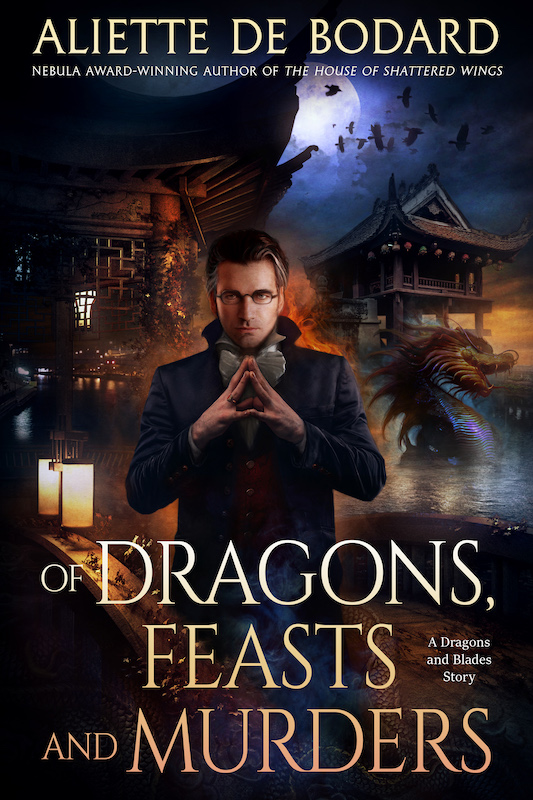 Dragons, court drama and relationships…
An unlikely duo of a bookish dragon prince and his ruthless Fallen angel husband have to cooperate with each other to navigate political intrigue and solve a murder. A combination of Asian court drama (think Nirvana in Fire or Heaven's Official Blessing) and Gothic comedy of manners; a fun and fluffy (*) book involving a mismatched couple, dollops of embarrassing moments, and the occasional kiss.
(*)"fluffy" for Bodard values of fluffy. It still involves a murder investigation, and ideas of consent and rulership and change, because, well–
*helpless shrug*
*hashtag on-brand*
Locus Award Finalist, 2020, Best Novella
Buy now
(Art and cover design: Ravven)
Official blurb:
From the author of the critically acclaimed Dominion of the Fallen trilogy comes a tale of dragons, and Fallen angels — and also kissing, sarcasm and stabbing. 
Lunar New Year should be a time for familial reunions, ancestor worship, and consumption of an unhealthy amount of candied fruit.
But when dragon prince Thuan brings home his brooding and ruthless husband Asmodeus for the New Year, they find not interminable family gatherings, but a corpse outside their quarters. Asmodeus is thrilled by the murder investigation; Thuan, who gets dragged into the political plotting he'd sworn off when he left, is less enthusiastic.
It'll take all of Asmodeus's skill with knives, and all of Thuan's diplomacy, to navigate this one — as well as the troubled waters of their own relationship….
A sparkling standalone book set in a world of dark intrigue.
A Note on Chronology
Spinning off from the Dominion of the Fallen series, which features political intrigue in Gothic devastated Paris, this book stands alone, but chronologically follows The House of Sundering Flames. It's High Gothic meets C-drama in a Vietnamese inspired world– perfect for fans of Heaven Official's Blessing, KJ Charles,  and Roshani Chokshi's The Gilded Wolves. 
Advance praise:
"A delightful and delicious story of court intrigue, tense family relations, and – of course – murder, OF DRAGONS, FEASTS, AND MURDER delivers on all three in a tightly plotted and tensely paced novella in which the fate of a country rests in the hands of a soft-hearted dragon prince and his murder husband. With luscious and lyrical prose, de Bodard effortlessly envelops the reader in a rich and expansive world. A fun read, I look forward to immersing myself in the rest of the Dominion of the Fallen series!"
K.A. Doore, author of the Chronicles of Ghadid trilogy
"Delightful… Beautiful writing, weird and magical world, fascinating culture and politics, and compelling characters: what more do you need?"
KJ Charles, author of Slippery Creatures
"I absolutely loved this… Two charming protagonists (in very different ways), beautifully descriptive writing, a cunning plot, and a thoughtful discussion of the ways that rooted injustice in a system can be changed. Also, dragons. Lots of dragons."
Genevieve Cogman, author of The Invisible Library series
"A delightful political mystery featuring de Bodard's vibrant world-building, beautiful prose, and compelling characters".
Juliet Kemp, author of Shadow and Storm
"Fantasy of Manners but with corpses and a stabby husband. The stabby husband may or may not have produced the aforementioned corpses."
Buy now