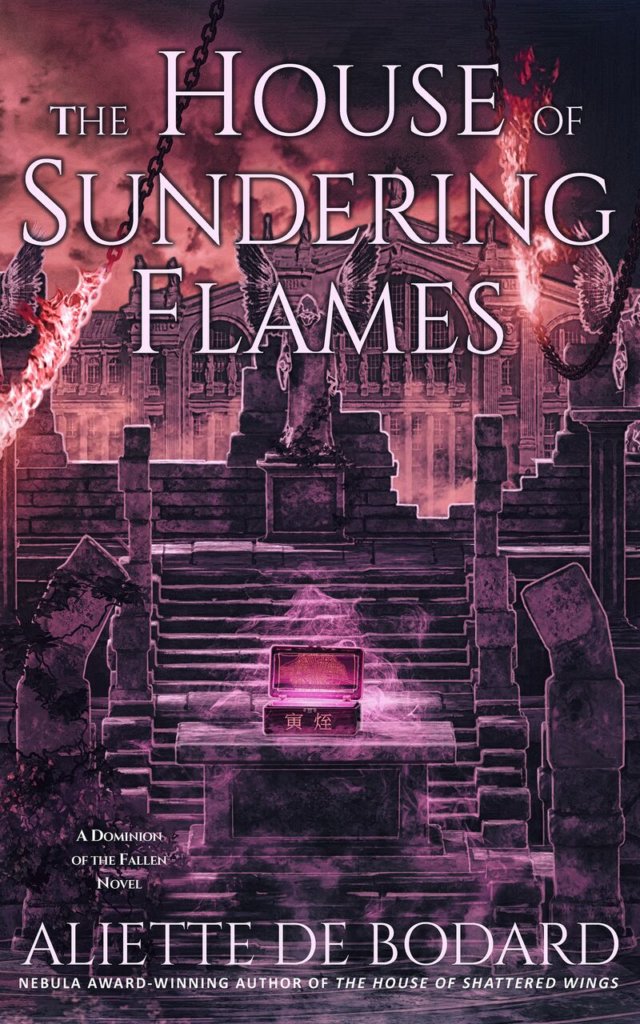 So… a question I've gotten asked a lot was about a US edition of The House of Sundering Flames, book 3 in the Dominion of the Fallen series. It's been… tricky (to cut short a long story, I'm out of contract in the US and it's not super easy to convince a publisher to pick book 3 of a series).
I'm pleased to announce that The House of Sundering Flames is now available for sale through JABberwocky Literary Agency, with a gorgeous atmospheric cover that matches those of the US editions.
Art and cover design is by Dirk Berger, who also did the UK edition of The Tea Master and the Detective (with thanks to John Berlyne for all the help).
This concludes the Dominion of the Fallen series (after The House of Shattered Wings and The House of Binding Thorns). Expect: more Gothic devastated Paris, more dragons, more snark, queer families, Vietnamese immortals, and creepy trees + creepy hawks!
Here's the cover copy:
The white-hot conclusion to the Dominion of the Fallen trilogy by the multi-award-winning author…
The Great Houses of Paris—headed by Fallen angels and magicians—have co-existed in fragile peace. When a powerful explosion razes House Harrier, old alliances are torn apart and a race begins to fill the power void.
Thuan, the beleaguered dragon head of House Hawthorn, finds a war on his doorstep. Aurore, once cast out by Harrier and almost beaten to death, seeks power to protect her family—and must venture back to her former home. And, in the ruins of House Harrier, Emmanuelle desperately tries to piece her fragmented memories of the explosion.
But beneath House Harrier awaits a fiery magic that hungers for destruction. And it is time for Houses and Houseless to stand together—or be engulfed in flames…
Praise for The House of Sundering Flames:
Incredible… one of the most original, fantasy settings I've seen
Adrian Tchaikovsky, Arthur C. Clarke Award-winning author of Children of Ruin
thrilling and creepy A.F., a definite must for fans of de Bodard and fantastical fiction.
Tade Thompson, Arthur C. Clarke Award-winning author of The Rosewater trilogy
The perfect closure of the trilogy! Really took my breath away more than once.
FrauMiest (Goodreads)
Buy Now
Buy book 1, The House of Shattered Wings:

Buy Now
Buy book 2, The House of Binding Thorns:

Buy now