Your unofficial release party
It's probably a testament to my general disorganisation that I've managed to confuse dates again: I was for some reason convinced that my Aztec noir novel, Servant of the Underworld, was scheduled for release Wednesday.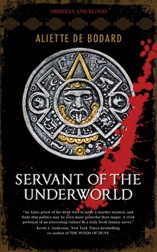 I just glanced at the date on my desk's phone, and realised that, er, no, it was today. Cue panic and disorganisation.
I'm stuck at work, of course, with a zillion other things I should really be doing–but my first US book release is definitely worth a celebration. So feel free to party in my name, wherever you are. Virtual champagne and other delicacies appreciated from this side of the trenches 🙂
Extras, aka party over the blogosphere:
-Janice Hardy lends me some blog space to talk about outlines and novel planning.
-My French fantasy "Melanie", originally published in Realms of Fantasy, is up on the World SF blog, as part of their new fiction feature. Look out for more great stories there!
-The book trailer, for those who want to get into the spirit of things:

-And, wow, amazon is already shipping it!!