Via Andy Cox, the upcoming art for "The Shipmaker", which is going to be in the next issue of Interzone (out November 12th).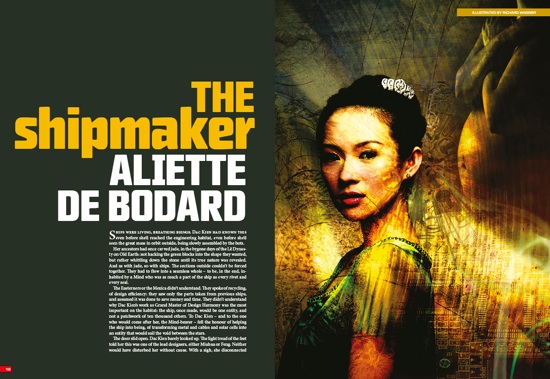 Art by Richard Wagner.
Isn't it pretty?
Aside from the obvious (though you're going to laugh, but it took me a while to notice the pregnant woman at the top-right), notice that the background on the left is a traditional Chinese brush painting of trees; the top part has the same traditional brush rendering of mountains; and the bottom part has schematics of electronics. Since the story is about using traditional elements of Chinese art and Chinese literature and applying them to ship design, that's awesomely appropriate.
BTW, the November issue is a Jason Sanford special (three stories and an interview with Jason); and you can get it for free if you subscribe to Interzone, or Interzone and Black Static for two years:
To receive this special offer, simply order a 12 issue (two-year) subscription to either Interzone or the Interzone/Black Static combination through the TTA Press online store. Then, in the Shopper's Reference box, enter JASON SANFORD. That way you'll receive the special issue for free.
(quoting Jason because I'm lazy)