Banh bao (steamed buns)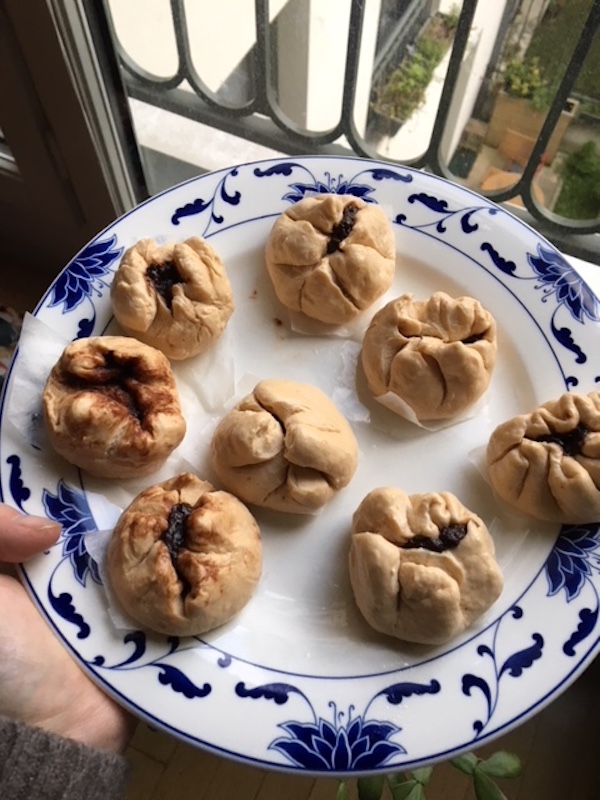 I bought some ready-mix bánh bao flour in Chinatown the other day, and I've been obsessively practising my black sesame seeds bao.
Bánh bao is the Vietnamese name for a steamed bun that's found in many Asian and Southeast Asian countries: pau, siupao, bao are some of the names of the bun that come to mind, and there are plenty more (every one of my Asian friends knew what I was talking about but there were about as many names as I knew people, lol!). It's not complicated, per se, but like all raised dough stuff it requires patience (and some passing familiarity with the art of kneading).
You have the choice of buying the ready made dough, which is mixed with a very soft and fine flour that's hard to find elsewhere and will make very soft and creamy buns, or to make your own with all purpose flour and tapioca starch. I've found both come out ok, but I'm not super fussy when it comes to how my baos taste.
They can be filled with sweet or savoury fillings (xá xíu, roasted pork, being the one that most readily comes to mind). I was making them for my kids so I chose the sweet fillings! Two choices: a black sesame paste, or Nutella.
Banh bao (steamed buns)
Author:
Aliette de Bodard
Prep time:
Cook time:
Total time:
An all-purpose bun, sweet or savoury
Ingredients
Dough
125g all purpose flour or special steamed bun flour
25g tapioca starch (or 25 extra flour)
37g sugar
2 teaspoons of oil
¼ teaspoon of active dry yeast
75mL water at room temperature
Black sesame paste filling:
50g black sesame seeds
3.5 tablespoons oil
3.5 tablespoons sugar
Nutella filling
12 teaspoons of Nutella (1 per bun)
Instructions
Lightly toast the sesame seeds in a dry pan on medium heat until fragrant (be careful, over-roasted sesame is very bitter, so err on side of caution). Grind them with a mortar and pestle, or blitz the seeds, the oil and the sugar in an appropriate food processor until you get a paste (I'm actually super lazy and I just pound lightly--it makes a crunchier paste). Put it in the fridge for 30 minutes until it hardens.
Ready-made dough: follow the instructions (I used about ⅓ of the packet for 11 buns)
If not, follow the recipe below.
Reactivate the yeast in 38°C warm water, leave to stand for 10 minutes. Meanwhile, mix the flour, tapioca starch and sugar. Add the yeast mix and the oil, mix well. Then gradually add the water until you get a sticky but relatively firm dough (you may not need all the water; also, whatever water you used to re-activate the yeast needs to be deducted from the total of the 75g water).
Stretch and fold 5 times at 5 minutes interval, until you can stretch the dough enough to see light through it. Then leave to rise for 2 hours (if you live in cold climes put it in a 24°C oven because mine definitely wasn't risen at the 2 hours mark).
Gently deflate the dough. Roll it into a cylinder and cut into bits of 25-30g each (you can cut into 12 pieces, I find it's more accurate if you have an electronic scale). Cut up little squares of baking paper to put under each bao.
Roll each piece using a rolling pin on a floured surface until you have a large disk. Put one teaspoon of chosen filling in its centre, then pleat and fold (link to a video). Put on baking paper and in steamer basket.
(note: you can put in more filling, but I've found that personally the sweetness gets a little too aggressive with more. Also, the buns are easier to close!)
It's traditional to shape the savoury buns with the pleated look and the sweet ones as essentially large stuffed balls--I did the pleated look on mine because I like it but you can certainly go for the ball version!
Leave the buns to prove for 15-30 minutes. Then steam for 10 minutes. Open the steamer to remove excess water that's accumulated under the lid, and steam for another 10 minutes. Leave to stand for 5mins until they're firm to the touch.
They can be frozen and reheated by steaming, or kept in the fridge wrapped in clingfilm. To reheat them, steam them for 4 minutes (you may need to adjust upwards for the frozen ones. As I recall it was more like 20 minutes for these, but it's been a while since I last tried!).
Stretch and fold technique:
here
Seeing light through the dough: here
Pleating video: here