Tôm rang thịt ba chỉ (grilled shrimp and pork belly)
A quick and easy stir-fry dish.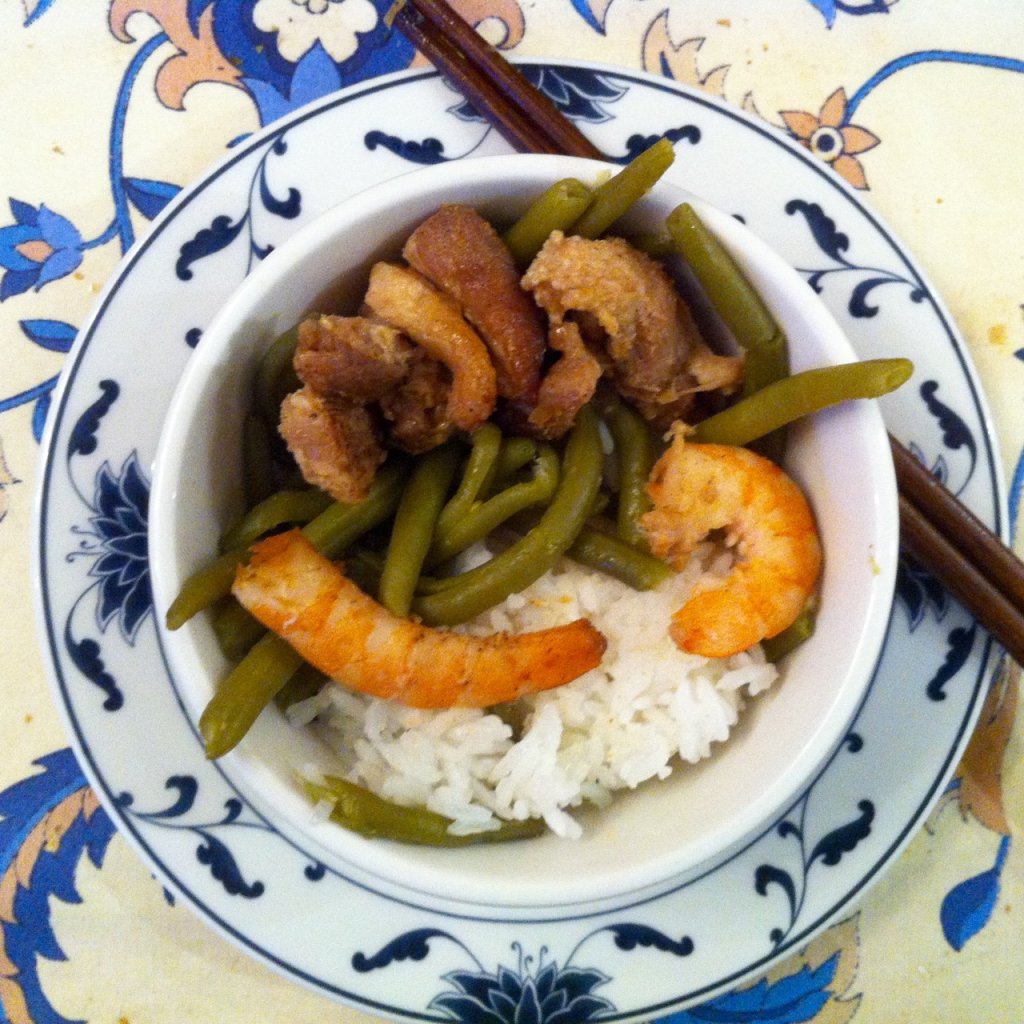 Recipe type: Main Dish
Cuisine: Vietnamese
Preparation time: 10 mins
Cooking time: 10 mins
Total time: 20 mins
Serves: 3
A very quick and easy stir-fry as I'm working my way through Grace Young's Stir-Frying to the Sky's Edge (a wonderful book on what to do with a carbon steel wok!). However, a few ground rules (I'm not pretending to be very skilled at this, but I've managed to do the wrong thing a couple of times already…):
if you don't have a wok, use a stainless steel skillet or cast iron skillet, or anything that will bear the high heat (NOT something with a non-stick coating)
do stir-fry with abandon, otherwise the marinade will caramelize char quite impressively fast
the shrimps can be cooked, in which case wait a bit
it helps to put the pork belly in the fridge for a while, so it dries out the surface and it comes out golden when you put it in the pan
if anything you're using is frozen, defrost and remove as much excess moisture as you can before adding to the stir-fry, if you don't want a braise…
the original doesn't have the soy sauce, but I needed something to deglaze the pan!
Tôm rang thịt ba chỉ (golden shrimp and pork belly)
Author:
Aliette de Bodard
Prep time:
Cook time:
Total time:
A quick and easy stir-fry dish
Ingredients
250g boneless pork belly, sliced thinly
250g shrimp, heads removed, peeled
1.5 teaspoon sugar
1.5 teaspoon fish sauce
1.5 teaspoon soy sauce
1 shallot, diced
Instructions
Marinate the pork belly, the sugar and the fish sauce for 5 minutes.
In a wok (or frying pan) on high heat, put the pork belly and the marinade. Leave to sear for about 1 minute, then flip around and stir-fry until almost cooked. Add the diced shallot.
Deglaze the pan with the soy sauce. Add the shrimp and briefly stir until cooked through (I cheated and used cooked shrimps, which required the barest of stirring).
Serve with rice and a green vegetable (I find snap peas or green beans go very well with this).