Awards eligibility and recommendations for 2020
Awards eligibility
2020 was a bit of a year for me (as it was for quite a few people, I'd wager). I did manage to publish a few things, mainly due to having written them before the pandemic started.
Out of these all, the one thing I'm proudest of is the latest Xuya novella, Seven of Infinities , an f/f murder & heist & romance with two Vietnamese main characters.
It's eligible in the best novella category for the Hugos, Nebulas and BSFA. If you enjoyed it, I would really appreciate if you nominated it.
There's also a lengthy sample available, courtesy of Subterranean if you want to check out if it's your thing: you can download it here.
More info here.
People have been asking, so I thought I'd also point out that the publication of Of Dragons, Feasts, and Murders makes Dominion of the Fallen eligible again in Best Series. If you have space in your ballot for an alternate Belle Epoque that deals with queerness, colonialism, oppressive power structures, survival and rebellion (not to mention dragons under the Seine and the best disaster bi dragon prince/fallen angel diplomacy/murder pairing!), I'd be overjoyed if you considered it.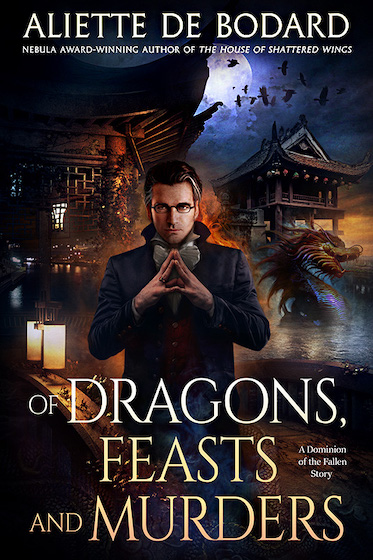 And now the part where I recommend other people's stuff I loved.
Graphic novel
The Magic Fish, Trung Le Nguyen: a story of immigration, fairytale retellings and a young boy struggling to come out to his family. This just hit me hard in the feels and never let go.
Short Story
"An Explorer's Cartography of Already-Settled Lands" by Fran Wilde: a gorgeous, evocative story of maps and what they mean to different people.
Novella
When the Tiger Came Down the Mountain by Nghi Vo. Nghi had two releases this year in the novella category. Empress of Salt and Fortune is good, but When the Tiger Came Down the Mountain, which received less attention (due to its late release in December and being edged out by her upcoming novel), is really amazing. It's about the scholar Chih, stuck in the mountains with three tigers, but also about the sapphic courtship of a tiger and a scholar. It's about history, and stories, and who gets to tell what, and it absolutely nails down the oral form while managing to hit all my buttons. It sounds like the grown-up version of the tales my bà ngoại told me as a child, and that's the highest praise.
The Order of the Pure Moon Reflected in Water, by Zen Cho. When a bandit walks into a kopitiam (coffee shop), everything goes downhill for the waitress-not to mention the bandit. Hilarious, pointed and heartbreaking. I blurbed this and laughed so much when I was reading it.
Novel
Black Sun, by Rebecca Roanhorse. A dark and gritty epic fantasy inspired by Mesoamerican culture, this just swept along. It's a tale of revenge and politics, and godhood, and the consequences of belief systems. It's a tale of families and clashing views on the world, and I cannot wait for the next book in the series.
Unconquerable Sun, by Kate Elliott. A genderbent version of Alexander the Great, in space, where Alexander is an indomitable young woman named Sun who is the heir to a vast, sprawling galactic empire. But there are other powers, as well as political infighting within the court, and Sun's companions are soon thrust into a fight for their survival. Amazing worldbuilding, deep characters, and a place that really feels lived in–such a great book. Special mention for Perse (Persephone) who is just the best.
The Midnight Bargain by C.L Polk. I read this at precisely the right time in my life, in a deep reading slump where I hadn't touched a fiction book in a few months. I devoured it in a few days because it was so good. In a universe where women are magically prevented from practising magic once they get married, Beatrice dreams of becoming a magician. When her path intersects that of two siblings with their own interest in bucking the gender system, they are drawn together–but will this tenuous alliance hold as Beatrice is pressured to marry? Not Regency and not set in Great Britain, but this feels like Regency all the same–along with a smart discussion of power, gender, social expectations and how magic would be used in a gender-rigid system. Such a great read.