Nebula Awards Final Ballot
SFWA has posted the final ballot for the Nebula Awards. Lots of familiar names on the ballot, but a huge shoutout to Eugie Foster and Jason Sanford for upholding the Interzone flag–and to sometimes contribs Will McIntosh and Rachel Swisky for making the cut, too. I'm so glad that not only are Interzone stories eligible this year, but also that we have two of them on the ballot (strictly speaking, Eugie's story would have been eligible by virtue of publication in Apex, but still).
The only one of those four I haven't had a chance to read is Bridesicle, but the other three stories are definitely well worth a read ("Sinner, Baker, Fabulist, Priest; Red Mask, Black Mask, Gentleman, Beast" in particular is fabulous).
Short Story
Novelette
"The Gambler," Paolo Bacigalupi (Fast Forward 2, Pyr Books, Oct08)
"Vinegar Peace, or the Wrong-Way Used-Adult Orphanage," Michael Bishop (Asimov's Science Fiction, Jul08)
"I Needs Must Part, The Policeman Said," Richard Bowes (The Magazine of Fantasy and Science Fiction, Dec09)
"Sinner, Baker, Fabulist, Priest; Red Mask, Black Mask, Gentleman, Beast," Eugie Foster (Interzone, Feb09)
"Divining Light," Ted Kosmatka (Asimov's Science Fiction, Aug08)
"A Memory of Wind," Rachel Swirsky (Tor.com, Nov09)
Novella
Novel
Bradbury Award
Star Trek, JJ Abrams, Roberto Orci and Alex Kurtzman (Paramount, May09)
District 9, Neill Blomkamp and Terri Tatchell (Tri-Star, Aug09)
Avatar, James Cameron (Fox, Dec 09)
Moon, Duncan Jones and Nathan Parker (Sony, Jun09)
Up, Bob Peterson and Pete Docter (Disney/Pixar, May09)
Coraline, Henry Selick (Laika/Focus Feb09)
Andre Norton Award for Young Adult Science Fiction and Fantasy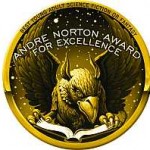 For more information, visit www.nebulaawards.com or www.sfwa.org