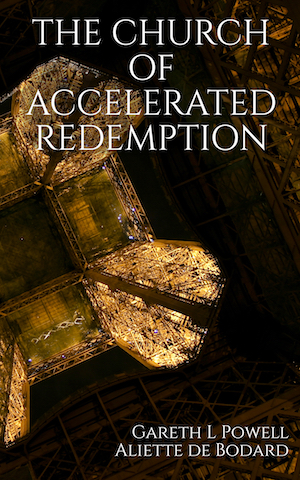 I ran inside insideI ran inside x3
Very quick announcement as I'm hard at work on a novel (book 3 of Dominion of the Fallen, about which I hope to have cool news soon!). Here's a re-release of an old, hard-to-find story I wrote with Gareth L Powell when I was still a baby writer (feels so far away lol!). I still remember googling all the Paris locations because I needed clear visuals, and I may have visited them all but my visual memory isn't that strong! Anyway, this is a story about two of my loves: Paris, and artificial intelligences and the future. You can get it at Amazon (for the moment it's not available at other vendors. We'll keep you updated if that changes).
Aliette de Bodard, winner of the Nebula, Locus and BSFA Awards, teams up with BSFA Award-winner Gareth L. Powell to present an uplifting short story of machines and humans, of intense emotions and cutting-age technology culled from tomorrow's headlines.

Installing a network for the Church of Accelerated Redemption is just another crappy job in a series of crappy jobs for Lisa, an American engineer stuck doing menial work in Paris. That the Church uses artificial intelligences to power its never-ending prayer machines doesn't interest her at all: they're paying, and she needs enough money to survive in an increasingly crumbling world. Until a demonstration outside the Church's headquarters, and the appearance of Stéphane, an enigmatic man Lisa finds herself powerfully drawn to. What lies beneath his headscarf, why is he so interested in the Church–and how far will she be willing to go in order to earn his trust?
"Full of character and wit" – Zone SF
"Wonderful and full of promise." – SF Revu
Buy Now