You might have missed the announcement on this, but I'm now Fran Wilde's co-host for Cooking the Books, the podcast about SF and food. This month we sat down with Ruthanna Emrys, the author of the newly released Winter Tide from Tor.com Publishing, a novel about re-imagined Deep Ones.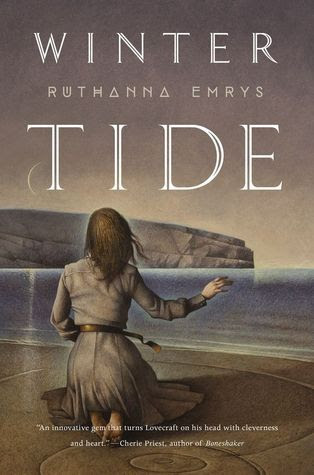 Read excerpts at tor.com| Buy at Amazon | Barnes and Noble | Indiebound
We talk about how Ruthanna uses food to evoke memory in her book. What we didn't realize is that we would also be talking about revising the Lovecraftian recipe, and exploring monster digestion.
This podcast contains so much salt. Also a heads up about Ruthanna's book party with her blog co-host Anne M. Pillsworth at Wiscon in a few weeks! Are you going? Pick up a Honeyed Salt Cake for us. Or try the recipe yourself, below…
This month's Cooking the Books Podcast, #030: A Taste of Salt – Cooking the Books with Ruthanna Emrys contains:
Deep Ones comfort food
What one would feed H.P. Lovecraft (a Book Smugglers question!)
Truffle salt, fleur-de-sel harvested from marshes, smoked salt…
CSA joys
Avocados
Holiday Fish Stew
Did We Mention Ruthanna's Book Party at WISCON
A mention of "The Litany of Earth", the short story that started it all.
Snarky aliens
Ready? Subscribe to the Podcast here! Or on iTunes! Or click play below.
(and consider supporting us on Patreon please?)

And visit additional Ruthanna Emrys content over on the The Booksmugglers!
Podcast #030: A Taste of Salt – Cooking the Books with Ruthanna Emrys

Direct MP3 Link
Recipe: Honeyed Saltcakes
(Recipe by Nora Temkin)
Makes: 21 cookies
Ingredients:
¼ C sugar
1.5C + 1T flour
1.5T fine-ground salt (People of the air who think there's such a thing as "too much salt" may want to make this 1.5 teaspoons.)
½ C honey
1 stick butter, softened
1 egg
½ t baking soda
Additional honey + course ground fleur de sel for glaze, to taste
To Cook:
Preheat oven to 375 degrees F.
Cream butter, sugar, and honey until smooth.
Add egg and mix.
Combine remaining dry ingredients in a separate bowl.
Add dry ingredients to wet ingredients and mix well.
Drop spoonfuls of batter onto a greased cookie sheet, leaving room for cakes to spread to about 2 inches wide.
Bake 9-12 minutes until lightly browned.
Remove from oven—immediately brush with warm honey and sprinkle with sea salt. Serve warm.
---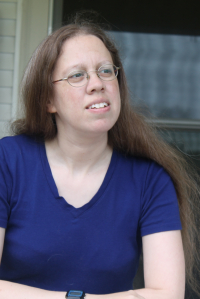 Ruthanna Emrys is the author of Winter Tide, the first book in the Innsmouth Legacy series. She is also co-blogger on Tor.com's Lovecraft Reread, and writes short stories about religion and aliens and psycholinguistics. She lives in a mysterious manor house on the outskirts of Washington, DC with her wife and their large, strange family. She makes home-made vanilla, obsesses about game design, gives unsolicited advice, and occasionally attempts to save the world. You can find her on Twitter, livejournal, her website, and at Tor.com.
---
Cooking the Books is a mostly-monthly podcast hosted
by Fran Wilde and Aliette de Bodard.