Xa xiu: char siu, barbecued laqué pork
The classic Cantonese roast, Vietnamese-style.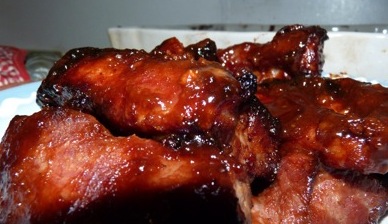 Recipe type: Main Dish
Cuisine: Chinese, Vietnamese
Preparation time: 3h 10 mins
Cooking time: 50 mins
Total time: 4h
Serves: 6-8
Ok, this is a slight cheat. Xá xíu isn't, per se, a Vietnamese dish (it's Cantonese), but it's long been a childhood favourite, and you find it in a few Vietnamese dishes (with egg noodles, or in buns). Like my phở recipe, this is just an approximation: the best xá xíu is actually found in specialised shops (or in a Chinese restaurant if you're in the West), which will have the actual resources to do the dry roasting. This is also not the traditional recipe for oven-baked xá xíu (which requires meat hooks, and lets the meat cook while suspended in the oven)–I don't have that kind of equipment, and my oven is too small anyway. But it definitely tastes divine like the real thing. If you happen to have a craving…
I usually make this in big batches, because monitoring the cooking is the key bit, and I might as well do that for a lot of meat. It freezes wonderfully, so you can make a lot, and always have some on hand for those hunger pangs.
A word of warning: this is best done with a fatty part of the pork, because the cooking process I use dries the meat. Having tried it, I definitely advise against using filet mignon or leaner cuts of the pork.
This serves, a lot of people? I generally have enough for 3 or 4 meals (well, 3, but that's because the H is too busy wolfing this down!)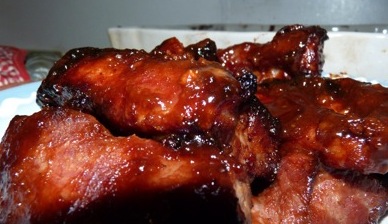 (from Irene Kuo's Key to Chinese Cooking, a book I cannot recommend highly enough. I kept the ingredients and the marinade but changed the cooking method)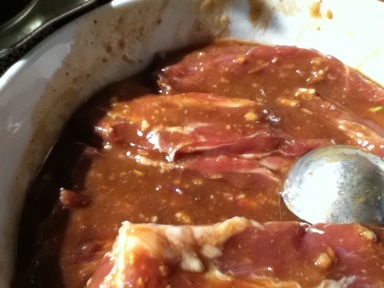 The pork in the marinade
Xa xiu: char siu, barbecued laqué pork
Prep time:
Cook time:
Total time:
Ingredients
2 lbs pork butt (1 kg "échine de porc" if you're French, spare rib roast if you're British. Any piece of the pork with reasonable fat content will do. NOT the belly though, too much fat in there)
3 tblsp soy sauce
2 tblsp fermented bean paste (the salty kind. You can substitute hoisin sauce, but it won't taste quite the same)
1 tblsp Shaoxing wine
2 tblsp ketchup
2 tblsp fruit juice (pref. orange or pineapple or something acidic, pref. without added sugar. I usually throw in our latest Tropicana purchase. This batch was made with pineapple, mango & lime juice)
1 tblsp sugar
1 tblsp. honey
2 cloves garlic, chopped up coarsely and crushed
½ teasp 5-spice mix
Instructions
Cut the pork butt into small bits--I do mine by eye, they're something like 15-20cm long, 5-7cm thick, and 5-7cm high? Doesn't matter much, you just don't want the meat to be too thin or too thick, and you want a decent length that you can later slice. Mix everything else into a marinade.
Throw the pork in, and leave to marinate for 3-6 hours, either at room temp or in the fridge.
Pre-heat oven to 270°C. Line the bottom of a dripping pan or similar dish with foil, and fill with water (this is to catch the drippings, and reflect heat). On an oven rack in the upper half of the oven, line up the cuts of pork and cook them for 20 minutes, putting the dripping pan just underneath (if you have a roasting rack and pan, you can just line the pan with foil and put the pork on the rack). By now, the pork should be cooked (check this before moving on to the next phase).
After this, switch to medium broiling, and brush them with half the marinade, and let the pork caramelise for 10 minutes. Basically, you're waiting for the sugar in the sauce to caramelise: when it does, the pork will go from being vaguely brownish to a brighter, deeper colour tinged with red (it won't look as red as the picture, though, that's just the flash playing tricks).
This is where you absolutely have to keep an eye on what's going on in your oven: the margin between caramelised and burnt is very thin, and you don't want to be on the wrong side... It's a fairly fast process (5-10 minutes).
When the bits of meat start being done, turn them over, brush the exposed side with the rest of the marinade, and wait again for the caramelisation process to happen. Depending on your oven, you might have to do this in several passes. Feel free to remove the bits of meat that look done as they look done--in my oven (which is very small), the caramelisation doesn't happen at the same time for every chunk of meat, and I'd rather have the bits of meat a touch cold rather than charred black...
Remove pork from oven, and cut into slices to serve.
Serve with rice, sliced cucumber and dồ chua (pickled vegetables). It's also wonderful in sandwiches; or, if you feel courageous, you can do xá xíu buns.