Pho bo, the (almost) lazy recipe
A fast version of the famous Vietnamese soup.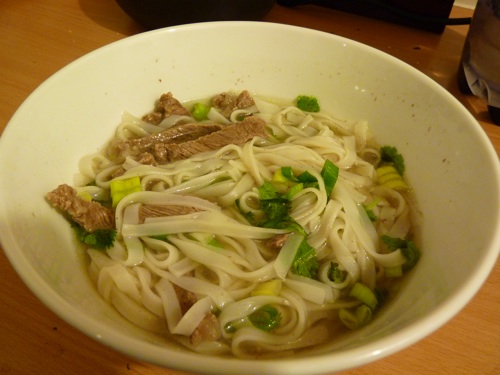 Recipe type: Main Dish, Soup
Cuisine: Vietnamese
Preparation time: 15 mins
Cooking time: 3 h
Total time: 3h 15 mins
Serves: 4-6
Ok, so this is my fast recipe for phở (without pre-canned MSG or paste). Making no claims that it's been handed dow for generations, or anything like that–it's just what happens to satisfy my phở craving when I'm in the mood.

Pho bo, the (almost) lazy recipe
Prep time:
Cook time:
Total time:
A fast version of the famous Vietnamese soup.
Ingredients
Broth
3.5-4 litres water
1 cube of instant vegetable broth (optional)
1 carrot, cut in fourths
500g beef cut into chunks (I use sirloin steak cut into thinnish slices, and later eat that with the broth)
2 garlic cloves, chopped into small pieces
8 tablespoons nưởc chấm (if you don't have nưởc chấm handy, try 2 tablespoons of undiluted fish sauce)
1 celery stalk (optional)
1 pack bánh phở noodles (375g).
Spice mix
1 cinnamon stick
2 anise stars
1 shallot studded with 6 cloves, (for more kick), one yellow onion studded with 6 cloves
5 cardamom pods, crushed with the flat of a knife
1-inch ginger piece
Garnish
Fresh soy (to taste)
Chopped green onions (to taste. I use one spring onion per person)
Coriander leaves (to taste. I use 3-4 coriander stalks per person)
Thinly sliced sweet onions (to taste. I generally don't use that because I don't often have onions in the fridge)
If you're lucky enough to have húng qué around (Asian basil), then you'll want to throw that in.
Instructions
Making the broth
Put the spices in a mesh ball if you have one (I don't use it, but I end up having to fish everything out of the broth)
Let's do the broth first: drop everything except the noodles into the pot, bring to a boil, skim off the impurities (we're not using bones, there's going to be fewer of them). Then cover and let it simmer for a good 2+ hours. I tend to do 2 hours because I'm usually very hungry by that time, but the more you let it simmer, the tastier it'll be.
Taste the broth. If it's too bland, add in more fish sauce.
Cooking the noodles
Fish out the spices and the beef (if you used the mesh ball, take that out. I tend to dump everything in and strain the broth through a colander, and then fish out what I need, ie the beef and the bits of garlic).
Prepare the noodles according to the inscriptions on the packet: generally, boil water, drop them in, and wait a few minutes for them to go soft. If you found fresh ones, you more or less need to dip them into hot water, and they'll be ready.
Assembling the soup
Put ¼th-1/6th of the noodles, the equivalent proportion of the meat and of the broth. Then a handful of chopped spring onion, some coriander, and a handful of soy.
Alternatively, you can put the garnish on the table and let everyone help themselves.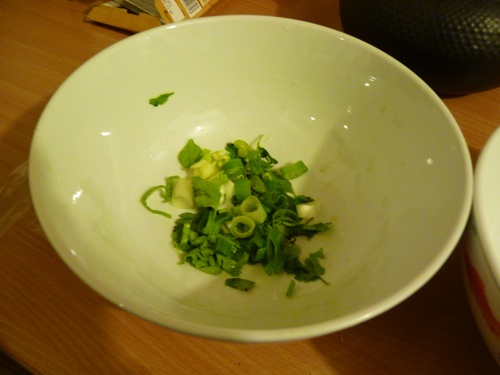 An idea of how much garnish goes into my phở bowl (didn't have soy this time around)
Et voilà!
---
Afterword
You'll have gathered that the broth is what makes or breaks this. Everyone has their own mix of spices and fish sauce to get to this point (though the anise stars are generally a mainstay)–feel free to add or substract if you're not convinced by it.
The traditional phở is made with beef bones and roasted spices and has thin slices of beef round instead of the sirloin slices I used, but it requires a lot more supervision than this. See Mai Pham's Pleasures of the Vietnamese Table, Andrea Nguyen's Into the Vietnamese Kitchen, or Wandering Chopsticks if you're interested.
If you're in a hurry and don't have the 2+ hours, you can boil the broth for 30 minutes, and add in a spoonful of phở paste in every bowl. It'll compensate for the weaker broth taste.
On the broth: if you're really not in a hurry, you can put it in the fridge and let the fat bubble up to the surface before skimming it. If you didn't use over-fatty pieces, it shouldn't be too greasy, but there's still going to be fat in it. Then boil the broth again after taking it out of the fridge. Also, the broth freezes pretty well (the broth, not the noodles, the meat or the spices. Just the liquid).