Pork with sweet and sour soy sauce
Sour and not so sweet, but oh so good.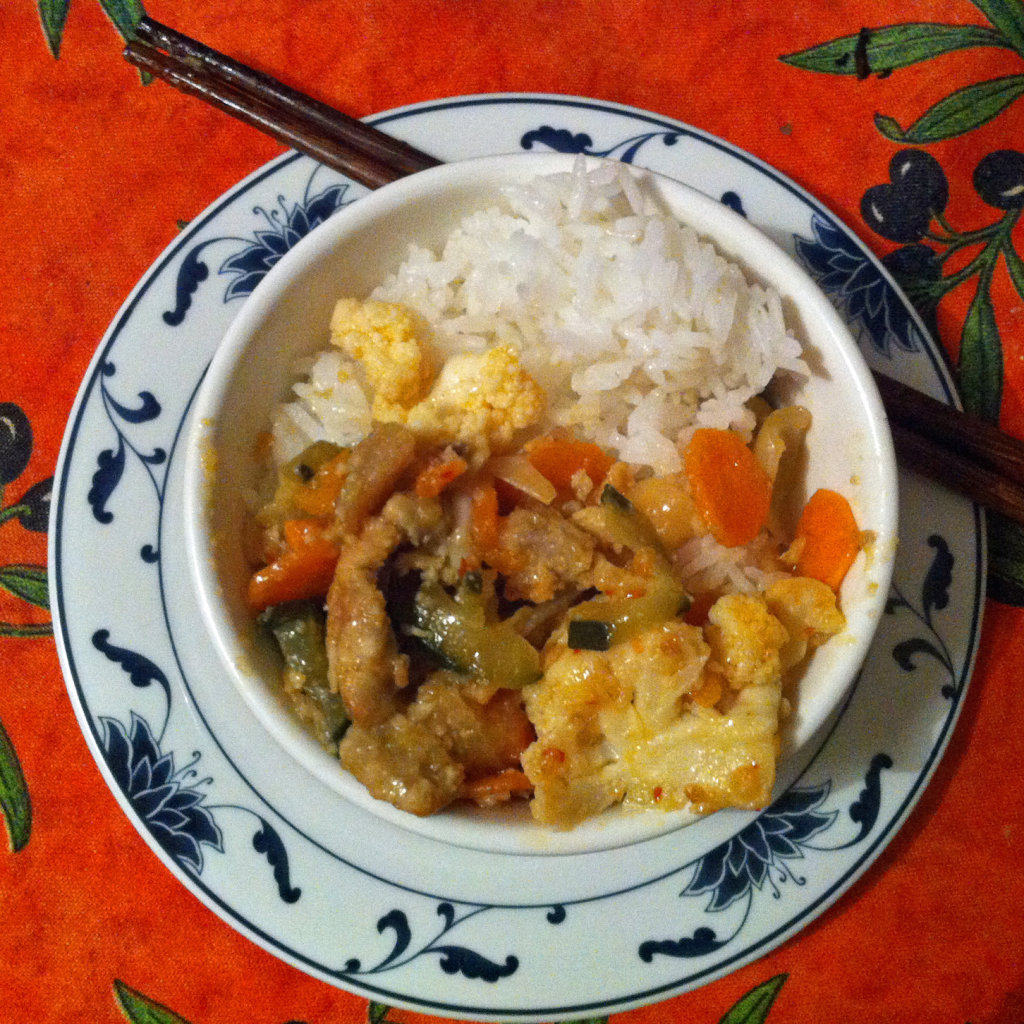 Recipe type: Main Dish
Cuisine: Vietnamese
Preparation time: 45 mins
Cooking time: 45 mins
Total time: 1h 30 mins
Serves: 6
A bit of a change this weekend, as we attempted to cook from the Vietnamese cookbook I got last year (it's handily bilingual French/Vietnamese, and centred on everyday food rather than showy pieces). Downsides is no pictures, so it's a bit touch and go sometimes (I wouldn't attempt the fried rolls on the basis of this book alone…).
This is a pretty handy recipe for cauliflower: it's the season currently, and I never quite know what to do with the beast that doesn't involve bland dishes (or cheese, which I'm not a big fan of). I also like the sweet and sour sauce, which is mostly sour and not so sweet. You can add chillies to it if you feel you need more of a kick, but I like it that way!

Pork with sweet and sour soy sauce
Author:
Aliette de Bodard
Prep time:
Cook time:
Total time:
Sour and not so sweet, but oh so good
Ingredients
For the meat and veggies:
1kg pork meat (I used ⅔ shoulder ⅓ belly)
1 tsp salt
3 cloves garlic, crushed
Pinch black pepper
10 tblsp flour
1 egg, beaten
1 cucumber, cut into half-moon slices
1 carrot, cut into thin half-moon slices
½ cauliflower, cut into 2.5cm pieces
1.5 onion, cut into wedges
1 tablespoon chilli garlic sauce
For the sweet-and-sour sauce:
160mL rice vinegar
320mL chicken broth
4 tblsp cornstarch
4 tblsp sugar
6 tblsp soy sauce
2 inch-piece of ginger, crushed, half a carrot sliced very thin, and half an onion sliced very thin
Instructions
Marinate the meat: cut the pork into pieces of 1.5cm, then add the salt, pepper, and garlic, mix well, and put in the fridge for ½h-1h.
Make the sauce: dissolve cornstarch and sugar in chicken broth on low heat. Add vinegar and soy sauce. Bring to a slow boil so the sauce thickens. Take off the heat, and add the other ingredients. Set aside.
Mix the flour, egg and 2 tbsp of water, and knead (I do mean knead, you're going to need your fingers for this, it's fairly thick) until well mixed. Add the meat and mix well (again, your hands are your friends here!). Fry the meat pieces until they're golden (30 minutes or so). Reserve.
In a wok on medium heat, put 2 tablespoons of oil, add the vegetables. Cover and cook for 3-5 min (they should still be crunchy). Uncover, mix meat and vegetables. Add the sauce.
Serve with rice.