Goi cuon: spring rolls
Salad rolls, a great recipe for summer.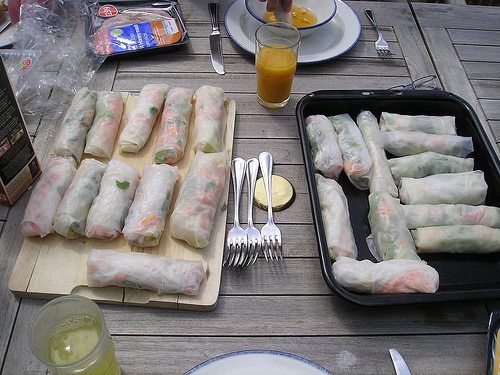 Recipe type: Appetiser, Buffet Food, To Go
Cuisine: Vietnamese
Preparation time: 30 mins
Cooking time: 0 mins
Total time: 30 mins + rolling time
Serves: 15 rolls
VD4 food: gỏi cuốn, spring rolls (or mixed salad rolls). Yummy food wrapped in rice paper.
Work is split more or less equally between chopping everything into small pieces and rolling the rice paper.
Ingredients
-15 tiger prawns, cooked
-120 g bun (rice vermicelli)
-100g soy, fresh
-50g mint
-50g coriander
-1 small lettuce
-1 small carrot
-15 rice papers, plus extras
Instructions
First, you have to cook the bun (3 minutes in boiling water, or according to the instructions on the wrapper). Then you wash the lettuce, and separate the leaves. Grate the carrot.  Cut off the pointy end of the soy beans, and wash.
Chop up the drained bun, the mint, and the coriander, and slice the shrimps in half, length-wise. Put every ingredient in a separate bowl.
Now comes (again), the fun part, which is setting up a rolling station, with every ingredient within reach, a damp towel to work on, and a big hot water bowl to dip the rice papers into.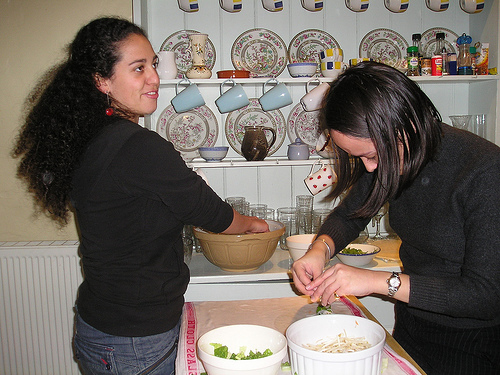 It looks something like this (with extra helper in the person of Sara Genge).
Take one sheet rice paper
Dip into warm water until it becomes supple and translucid
Lay it flat on worktable
Put two halves of shrimp
Put two pinches of salad, some bun, some soybeans, and carrots
Spread a pinch of mint and a pinch of coriander over the mix
Roll carefully into a cylinder, sealing the edges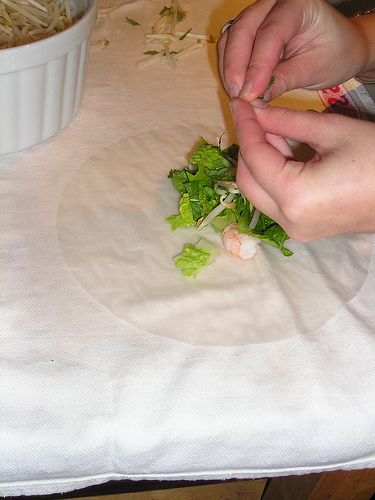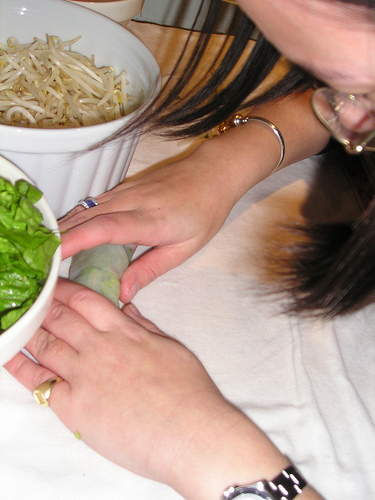 Set the roll aside somewhere else (yup, you need a fairly large kitchen), rinse, repeat.
Dipping sauce is supposed to be soybean sauce, but nuoc cham works just as well. It's a pretty tolerant recipe, too. Can fit pork or crab or whatever proteins you feel like. Much easier than the previous one, overall 🙂
(pictures thanks to Rochita Loenen-Ruiz, spring rolls courtesy of Rochita, Sara Genge, and Stephen Gaskell)