Bun thit nuong: barbecued pork on rice noodles
Fresh and tasty, an ideal salad for hot weather.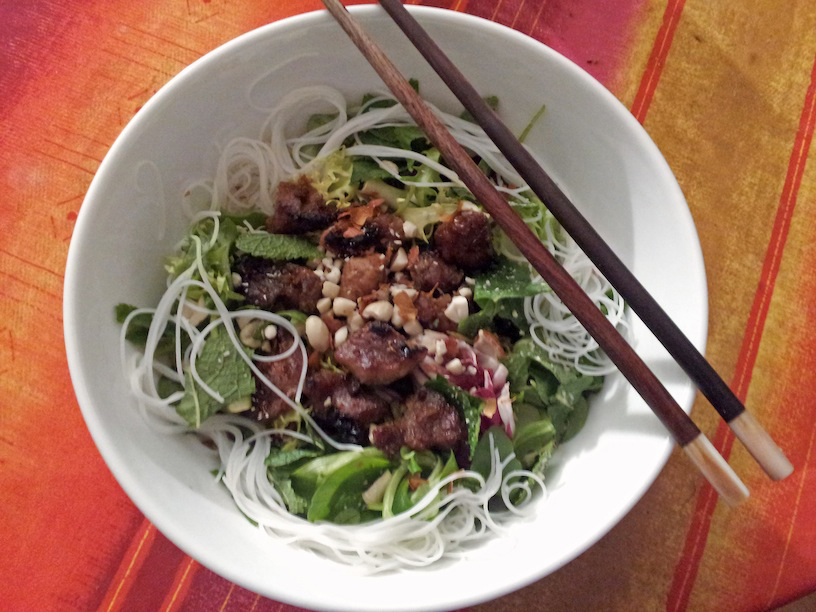 Recipe type: Main Dish
Cuisine: Vietnamese
Preparation time: 50 mins
Cooking time: 20 mins
Total time: 1h 10 mins
Serves: 4
Aka bún thịt nướng, grilled pork with vermicelli. A classic of salad dishes–there are many recipes for this as there are people. This version makes good use of lemongrass and soy sauce (you can add oyster sauce into the mix, but I'm not a big fan of using oyster sauce with lemongrass and fish sauce, I find it tends to be a bit overwhelming).
As with bò bún, this is a salad: you have to serve the noodles cool (and please please don't heat up the salad or whatever arrant nonsense I've seen people do in Chinese/Vietnamese takeaways). Choice of herbs is up to you: mint is what I can most easily find and use in other dishes, coriander or red perilla (tía tô) or even rau răm would probably work as well (I don't have easy access to Asian herbs, which is why I tend to stick to mint and coriander in my dishes).
See here for the nước chấm recipe.

Bun thit nuong: barbecued pork on rice noodles
Author:
Aliette de Bodard
Prep time:
Cook time:
Total time:
A nice fresh dish for summer
Ingredients
800g-1kg pork shoulder
2 stalks lemongrass, minced
1 shallot, minced
1 clove garlic, minced
1.5-2 tablespoons brown sugar
1 teaspoon pepper
1.5 tablespoon soy sauce
1.5 tablespoon fish sauce
1 tablespoon cooking oil (or oyster sauce)
320 dried rice vermicelli (bun)
4 handful roasted unsalted peanuts
Iceberg salad (50g of salad per person)
Soy (handful of soy per person)
Mint (1 or 2 stalks of mint per person)
Instructions
Mince the shallot, garlic and lemongrass very fine. Mix the sugar, pepper, soy sauce, fish sauce and cooking oil to obtain the marinade.
Cut the pork into bite-sized pieces and marinate for at least 30 minutes in the fridge, more if possible.
Preheat oven to 200°C. Get the pork out of the fridge and to room temperature.
Bake the pork in ovenproof dish for 20-30 minutes, until thoroughly cooked. Then turn the oven to broil/grill setting and grill on both sides until the meat is nicely browned. (alternatively, grill the meat until cooked).
Boil enough water to cover the rice vermicelli, and pour over them. Leave to cook for 2 minutes, then drain and leave to cool.
Wash the salad and the soy. Dry the soy well. Crush the peanuts into little fragments with a mortar and pestle.
In each bowl, put: a quarter of the rice noodles, a quarter of the salad, and a quarter of the soy. Then add the pork, mint and roasted peanuts.
Serve with nuoc cham, and let each guest mix their salad!