Bo bun: beef on rice vermicelli
A nice and easy Vietnamese salad.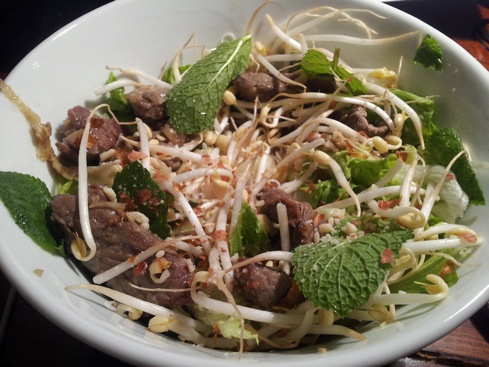 Recipe type: Basics, Main Dish
Cuisine: Vietnamese
Preparation time: 30 mins
Cooking time: 10 mins
Total time: 40 mins
Serves: 2
Aka bò bún. I figured it was high time I posted my own recipe for this 🙂 It's best to think of bò bún and many other dishes involving rice vermicelli as a giant salad. This will prevent you from requesting a warming of the dish, or, worse, microwaving it for better flavour (true story: I was once sitting in a Chinese deli having a wonton soup. Every single customer who walked in and asked for a bò bún would request for it to be warmed, at which point the owner would pop the bowl in the microwave and serve them a bò bún with limp salad and soybeans, making me feel very very sad angry that the dish had taken such a battering).
Anyway: bò bún! It's a fairly flexible dish (I've added cucumber and/or carrots for the crunch, or even mange-tout; you can replace all or part of the beef with chả giò/fried rolls, put other herbs if you don't have mint or coriander, etc.). Two things to remember is to serve the noodles cool and not straight from the boiling water, and to have a kickass dipping sauce because it's half the flavour of the dish.

Bo bun: beef on rice vermicelli
Author:
Aliette de Bodard
Prep time:
Cook time:
Total time:
A nice and easy Vietnamese salad
Ingredients
220g beef
160g bun noodles
2 shallots, chopped
1 tablespoon nuoc mam
2 big garlic cloves, chopped
1 stalk lemongrass
1 tablespoon sugar
4 sprigs mint leaves, or to taste
4 sprigs coriander, or to taste
80g soy beans, washed
A handful roasted unsalted peanuts
4 big salad leaves
Nuoc cham dipping sauce, to taste
Instructions
Make the beef marinade: mix together the nuoc mam, garlic, lemongrass and sugar. Cut the beef in thin slices, mix with the marinade, and leave for half an hour (longer if you can).
On a medium stove, cook the beef until it's done. Cover, and take away from the stove.
Pour boiling water on the bun noodles, and mix them with chopsticks until they turn opaque white and are no longer brittle. Drain the noodles and leave them to cool.
Pound the peanuts into small pieces with a mortar and pestle.
Put the bowls together: put half the noodles in them, followed by the beef, followed by the salad torn into small bits, followed by the soybeans, mint, coriander, and crushed peanuts.
Add about 3 tablespoons of nuoc cham, or to taste. Mix well, and eat.
(for the nuoc cham recipe, see
here
)