Banh mi chien tom: shrimp toast
The best shrimp appetiser ever.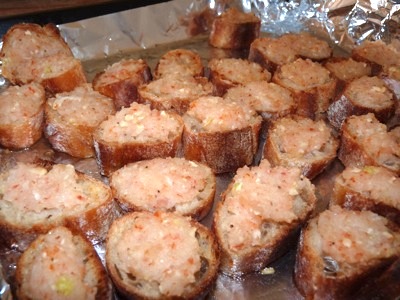 Recipe type: Appetiser, Buffet Food
Cuisine: Vietnamese
Preparation time: 40 mins
Cooking time: 15 mins
Total time: 55 mins
Serves: 30-40 toasts
Aka bánh mì chiên tôm. Literally, fried bread with shrimp. It's hard for me to explain about shrimp toast. It's always been one of my favourite foods, though I didn't actually eat so much of it when I was younger; but when I started cooking for myself, it was one of the first recipes I tried to reproduce. And, boy, those do bring back memories…

Banh mi chien tom: shrimp toast
Author:
Adapted from Bach Ngo
Prep time:
Cook time:
Total time:
The best shrimp appetiser ever.
Ingredients
250g shrimp, shelled and deveined (defrosted frozen shrimps are perfect for this)
1 egg white
2 tablespoons flour
0.5-1 teaspoon salt (depending on how salty your shrimps are. Frozen ones tend to have more salt content, at least where I hail from)
dash of pepper
0.5 teaspoon sugar
2 cloves garlic, chopped
3 spring onions, white parts only, chopped (or a small shallot)
extra water and/or flour
2 ficelles (a ficelle is a narrow baguette. Get a baguette if you can't get one; or get some other sliced bread and cut it into small enough pieces)
Instructions
Pre-heat the oven to 180°C.
Mash the shrimps, the garlic and the spring onions into a paste, either by hand, mortar and pestle, or food processor. Then fold in everything else except the bread. It should resemble a spread; adjust water and flour quantities accordingly if it doesn't.
Cut the ficelles into slices about 1-2cm thick (see picture for an idea of the size), and spread the paste on them.
Now this is where it gets a little bit tricky: spread a thin coating of oil on top of the spread paste (we found out this weekend that the smallest of the measuring spoons, the ⅛ teaspoon, is pretty good for this, but it's a painstaking job. Otherwise an oil spray will work wonders).
Put them on an oven rack covered with aluminium foil, leave for about 15 minutes, or until the top turns golden. Enjoy!
Notes
If you don't mind the extra grease, the traditional method for cooking this is frying on both sides in a pan.