Release day: House of Binding Thorns!
Yesterday was the US release date for The House of Binding Thorns (well, in the US anyway: the UK edition drops in two days' time, on Thursday). If you're in the mood for a dark fantasy set in a ruined and decadent Paris, magic creepy spells, Vietnamese dragons in human shape, and intrigue and backstabbing, I've got you covered! (and it's standalone: you can read it without having read the first one and it works just fine).
I hate to say this, but given that this is the way things work–the likelihood of me getting to write more novels in this universe (or indeed, more novels, full stop) is entirely dependent on sales, so if you fancy picking up a copy (whichever format) I'd be very grateful. And if you like it, dropping a good word about it on social media or reviewing at goodreads/amazon (doesn't have to be long reviews–I'll take inarticulate squeeing too *grin*) or recommending to a friend would help immensely.
And here's a little bit of a cheat: you can still get the exclusive-to-preorders ebook, Children of Thorns, Children of Water, if you buy the book today or tomorrow. Dragons in human shape infiltrating a grand, decaying mansion, magical shenanigans, and éclairs! (ignore the "UK only" in the graphic, this is valid whatever the edition you order–just send your proof of purchase through the form).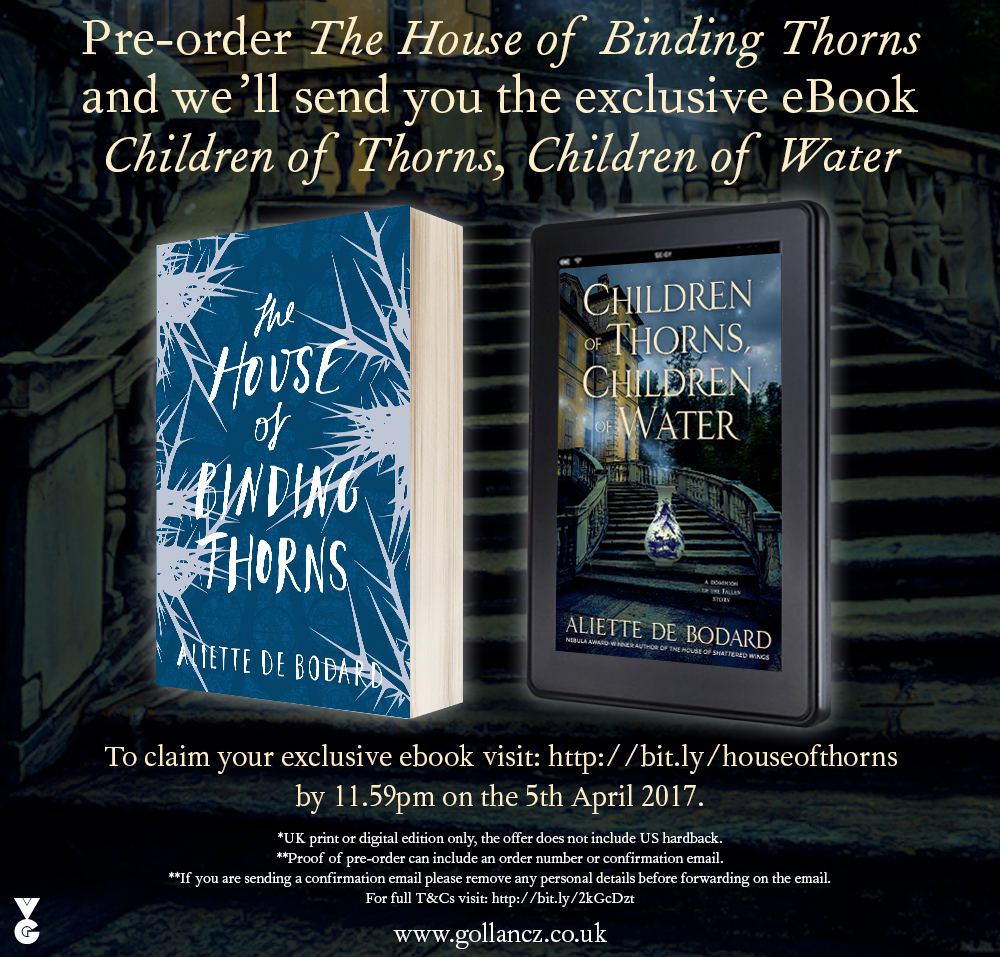 And here are a few reviews:
Touches the heart as often as it cuts throats.
Publisher's Weekly (Starred Review)
THE HOUSE OF BINDING THORNS takes the gothic atmospheric politics of THE HOUSE OF SHATTERED WINGS and ramps them up to a pitch of intensity that I really wasn't expecting. (…) Wrenchingly tense, suffused with a creeping undercurrent of atmospheric horror, of decline-and-fall, and yet vividly alive. (…) It does so much so right, and so well, that I cannot help but love it wholly and entirely. It really is an utterly magnificent achievement.
Buy now
Read Chapter One Online!