House of Binding Thorns cover reveal
So we're having a good holiday, albeit one that turns out to have no internet connection (I'm typing this on someone else's very limited 3G allowance)… But you know, there's sea, sand, sun (not a lot), wind (lots), and entirely too many buckwheat pancakes. And edits (which are nearing their end) on The House of Binding Thorns, the sequel to The House of Shattered Wings. 
And, also, the UK cover for The House of Binding Thorns! (involves more foil :p)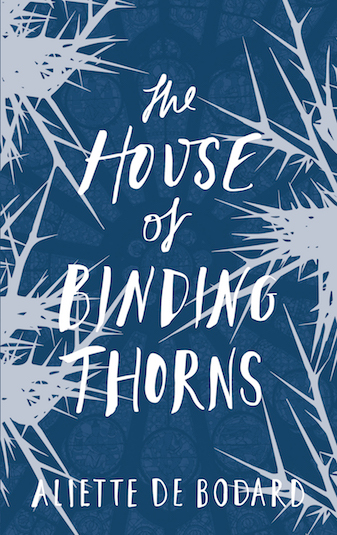 The House of Binding Thorns continues the epic story of the fallout of the war in heaven that saw the angelic Great Houses of Paris assaulted and torn apart by mistrust and betrayal in The House of Shattered Wings. Among the ruins of Paris the Great Houses, shaken to their foundations, now struggle to put themselves back together, as powerful forces, gods and angels, men and demons, begin to circle the once unassailable Houses.
So… backstabbing, diplomacy and ancestral magic in a decayed and dangerous Paris — you know you want this!
If you've read The House of Shattered Wings: yes, this will be focused on the House of Hawthorn, and will have a bunch of returning characters, notably angel essence addict Madeleine — and a bunch new ones too, a Houseless Annamite with a link to powerful, unusual angel magic and a kick-ass dragon prince with a talent for getting into major trouble.
The House of Binding Thorns will be out in April 2017 (we're on track for finishing revisions soon, when I can finally be convinced to pry my hands from this manuscript and declare it done!): stay turned for more info (I don't have the UK buy links yet, at least not firmly enough for me to feel confident to send you to them!)
Praise for the previous volume in the series, the award-winning The House of Shattered Wings:
A fantastical spy thriller that reads like a hybrid of le Carré and Milton, all tinged with the melancholy of golden ages lost.
Publishers Weekly (Starred Review, Top 10 Autumn SF/Fantasy/Horror Pick)
It's a whirlwind, it's heartbreaking, and it's one of the best fantasy novels of 2015.
Jessie Potts, RT Book Reviews (RT Top Pick for August Fantasy)
THE HOUSE OF SHATTERED WINGS is a Gothic masterpiece of supernatural intrigues, loves and betrayals in a ruined and decadent future Paris — wildly imaginative and completely convincing, this novel will haunt you long after you've put it down.
Tim Powers, author of The Anubis Gates
THE HOUSE OF SHATTERED WINGS exists in a rich, evocative Paris that is thick with magical history. Pathos and beauty intertwine in a novel filled with longing.
Mary Robinette Kowal, Multiple-Hugo award winning author of the Glamourist Histories
An intense, beautiful, brutal journey written with an eye for the stunning, vivid detail and the cruel demands of duty, loyalty, and leadership. Its portrait of a ruined Paris ruled by fallen angels is one I won't soon forget.
Kate Elliott, author of the Spiritwalker Trilogy