A few upcoming publications, and a reminder
A few cool news: first, I've put together an ebook sampler for my fiction. The idea isn't to do a short story collection (or even to make money!), but simply to allow people to discover my stuff by browsing through their Kindles and other reading devices. The thing is called Scattered Among Strange Worlds, and regroups my Clarkesworld Chinese/Vietnamese diaspora in space story "Scattered Across the River of Heaven" and my IGMS apocalyptic mermaid tale "Exodus Tides". Due to exclusivities, etc., it will be available end of July (or possibly a bit later if I have to fight to upload a book on amazon…). Price should be the lowest I'm allowed to set, so 99 cents?
The cover and ebook design is by the ultra amazing Patrick Samphire, who recently launched his own ebook cover and ebook design business over at 50secondsnorth. He blogs about the design and the choices he had to make here, on his blog.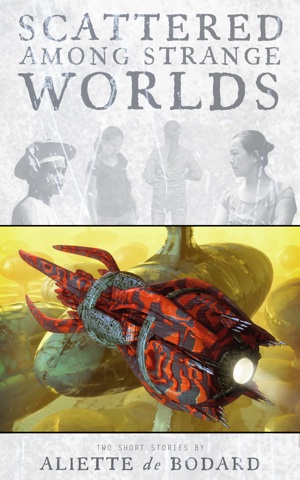 Isn't it fabulous? Many thanks to Patrick, who's got a very sharp eye for what works for books covers, and does absolutely freaking gorgeous stuff (and his rates are pretty darn affordable, too). You know you want an ebook this summer 😀
Also, my Chinese-y story "Under Heaven" will be available in Electric Velocipede issue 24, in which I share a TOC with Ken Liu (then again, who doesn't share a TOC with the ever-prolific Ken? 🙂 ) and Ann Leckie. You can find the full list of stories here, and their publication date should be available soon.
Finally, I've sold my short story "Ship's Brother", set in the Xuya continuity, to Interzone for their next or after-next issue. Featuring a ship named after a fairytale character (Mị Nương, aka The Fisherman's Song. If you're read the fairytale, you'll know why). Many thanks to Chris Kastensmidt and the ever-awesome Rochita Loenen-Ruiz for reading it and offering very cogent suggestions!
Snippet:
You never liked your sister.

I know you tried your best; that you would stay awake at night thinking on filial piety and family duty; praying to your ancestors and the bodhisattva Quan Am to find strength; but that it would always come back to that core of dark thoughts within you, that fundamental fright you carried with you like a yin shadow in your heart.

I know, of course, where it started. I took you to the ship–because I had no choice, because Khi Phach was away on some merchant trip to the Twenty-Third Planet–because you were a quiet and well-behaved son, and the birth-master would have attendants to take care of you. You had just turned eight–had stayed up all night for Tet, and shaken your head at your uncles' red envelopes, telling me you were no longer a child and didn't need money for toys and sweets.
In other news, packing for Romania in a bit of a panic. More later, but a small reminder you can find me in Bucharest Friday 17:00, at the Calderon Cultural Center, 39, Jean-Louis Calderon Street, sector 2, for the Society of Romanian Science Fiction's ProspectArt meeting. I'll be interviewed by the tireless Cristian Tamas, and will read from "Immersion", a full two weeks before it's published in Clarkesworld!