First reviews of Servant of the Underworld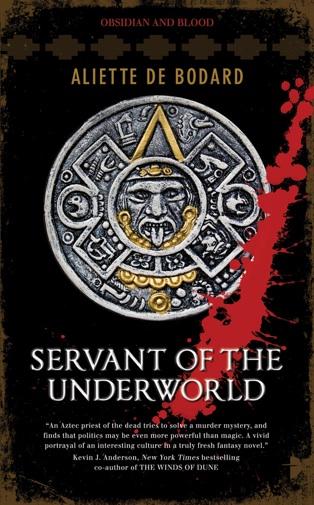 Saw a couple of reviews trickle in during the holidays:
-Liviu Suciu at Fantasy Book Critic:
The novel fits most comfortably under the heading of "dark fantasy" with the tropes of contemporary urban fantasy – magic, sorcerers, powerful supernatural beings – called Gods here – lots of blood and violence, mostly urban setting – but is set in the Aztec Empire at its peak in the late 15th century.
The world-building is exquisite and we *believe* we are transported to the 15th century Tenotichtlan and together with the superb voice they formed the main reason I enjoyed this book so much… Highly recommended; Ms. de Bodard is a writer to watch.
-Nik Butler at Loudmouthman:
The mystical Aztec setting had every opportunity to become a tongue twisting and convoluted mish mash of vowels and golden thingies. Fortunately none of this occurs as day to day temple life and the duties of its citizens are described you can feel the richness of this bloody empire without once tripping over some unpronounceable God or location.
This is Book 1 in a trilogy and I am eager to get my hands on the next book when it is released.
*happy writer*