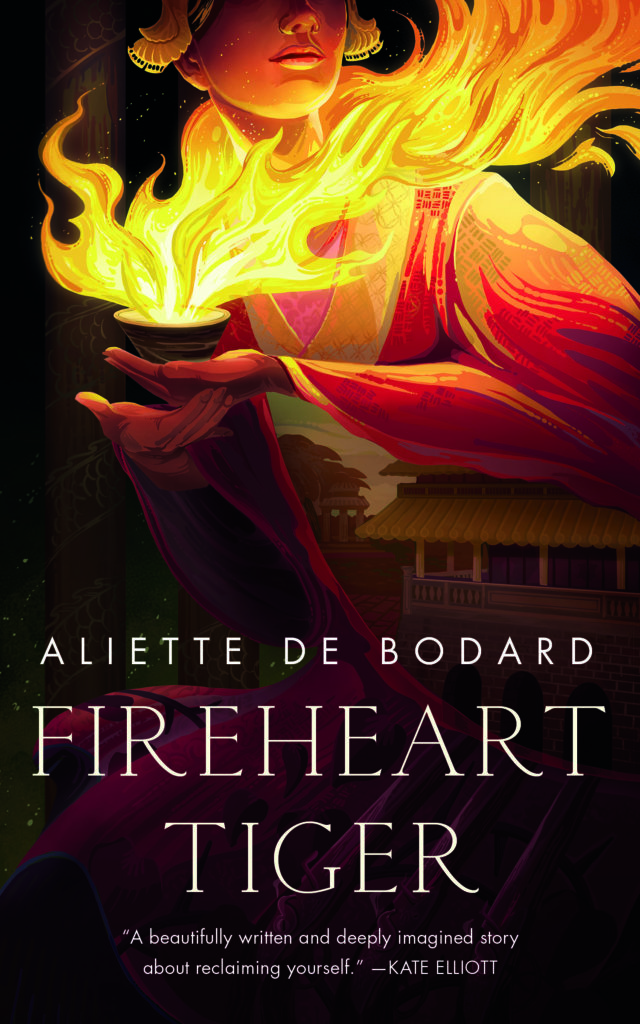 Tor.com has revealed the cover of my upcoming book Fireheart Tiger, an f/f postcolonial The Goblin Emperor meets Howl's Moving Castle. Look at it, isn't it amazing?
Cover art by Alyssa Winans
Some small details you might not have noticed:
the dragon on the pillar behind the woman (the flag of the country in the story is the dragon and pearl)
the object catching fire in her hand is a teacup, referring to a story scene
the guns in the lower right-hand corner, both propping up and threatening the palace
the pavilion in the gardens, a crucial story location
the markings on her skin near the flame evoke a tiger's skin
the large building in her sleeves is Cửa Ngọ Môn, the Noon Gate in the imperial citadel in Huế. The fact that she's transporting things in her sleeves is a reference to Vietnamese (and Chinese) garments having sleeves large enough to be used as pockets
You'll be wondering why the title: it refers to a Vietnamese folk tale about how the tiger got his stripes: they're the marks of a rope when man burnt him with fire, and explains that the resentful tiger now seeks to eat men. I took the fire, the tiger and the idea of imprisonment, and ran with it.
And here's the official summary
Award-winning author Aliette de Bodard returns with a powerful romantic fantasy that reads like The Goblin Emperor meets Howl's Moving Castle in a pre-colonial Vietnamese-esque world.
Fire burns bright and has a long memory….
Quiet, thoughtful princess Thanh was sent away as a hostage to the powerful faraway country of Ephteria as a child. Now she's returned to her mother's imperial court, haunted not only by memories of her first romance, but by worrying magical echoes of a fire that devastated Ephteria's royal palace.
Thanh's new role as a diplomat places her once again in the path of her first love, the powerful and magnetic Eldris of Ephteria, who knows exactly what she wants: romance from Thanh and much more from Thanh's home. Eldris won't take no for an answer, on either front. But the fire that burned down one palace is tempting Thanh with the possibility of making her own dangerous decisions.
Can Thanh find the freedom to shape her country's fate—and her own?
The book will be out Feb 9th 2021.
You can preorder now—a small reminder that preorders help books a lot, because they indicate enthusiasm, and that in turn influences visibility and thus the attention given to the book (and many many thanks to everyone who's already preordered, you rock).
Buy Now