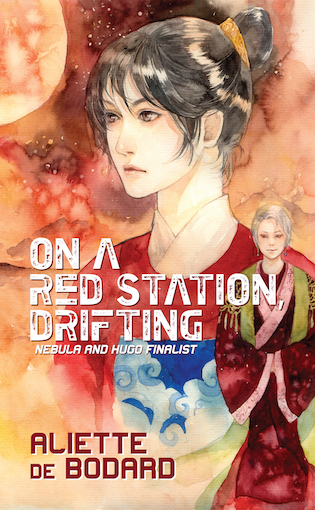 I shared this on twitter recently, but I thought I'd repost here for those who weren't around on Sunday.
A few years ago, I started the custom of naming Xuya mindships after literary allusions or metaphors–because, in a society where literary culture is still very important and scholars drive the creation of mindships, it felt like a natural process. Of course, if you're not familiar with Chinese/Vietnamese culture, a lot of these probably fall flat–so accordingly, I've provided a summary of those references I can remember.
"The Frost on Jade Buds" (in "The Frost on Jade Buds" in Solaris Rising 3) comes from a proverb that I can't remember exactly. I think it's beauty cold enough to shatter jade.
"The Tiger in the Banyan" (in "Three Cups of Grief, by Starlight"): the tiger in the tale of Cuội, who uses banyan leaves to heal her dead cub (in the version I remember, the tiger lays her dead cub in the hollow of the banyan tree, which always made more sense to me when you consider what a banyan looks like …
"The Dream of Millet" (in "Three Cups of Grief, by Starlight"): a dream Lã Động Tân/Lü Dongbin had while his millet cooked, which convinced him to renounce the world and become an Immortal.
"The Sea and Mulberry" (in "A Slow Unfurling of Truth", in Carbide-Tipped Pens: in Vietnamese, "sea and mulberry" means a big upheaval in the affairs of men (from a Chinese legend where every thirty years, the sea turned to mulberry fields, and the mulberry fields to the sea).
"The Turtle's Citadel" (from "The Waiting Stars" in The Other Half of the Sky): Âu Lạc, a citadel that was built with the help of the Golden Turtle Spirit (the walls kept collapsing until the king called for the help of the Golden Turtle, who led him to an evil spirit nearby). The citadel was also defended by a magical crossbow made with one of the claws of the Golden Turtle, and could not fall so long as the crossbow remained there (there's another reference to this tale in "The Citadel of Weeping Pearls", where a mindship is called "The Turtle's Golden Claw").
"The Cinnabar Mansions"(from "The Waiting Stars" in The Other Half of the Sky): basically a creative English translation of 紅樓 "Red Chamber" (from "Dream of the Red Chamber").
"The Fisherman's Song" (from "Ship's Brother" in Clarkesworld Magazine): the song of Trương Chi, which earned him the love of a mandarin's daughter, and later her tears after his death. I was this close to making it "The Fisherman's Lament", but I thought it was a bit pessimistic a name to give a midship 🙂
NB: In On a Red Station, Drifting, of course all the stations are named after the Three Blessings in Vietnamese/Chinese: Longevity, Prosper(ity) and Felicity (Good Fortune).