Thit xot chua ngot va vai: sweet and sour pork with lychees
A nice and sweet rich dish.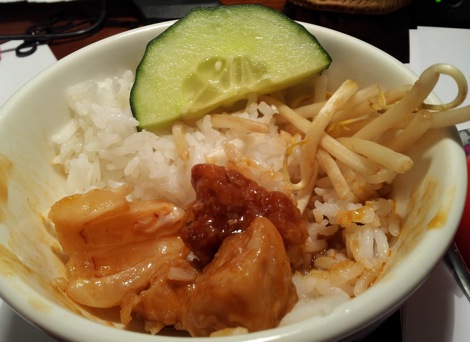 Recipe type: Main Dish
Cuisine: Chinese, Vietnamese
Preparation time: 40 mins
Cooking time: 1h
Total time: 1h 40 mins
Serves: 4
(Thịt xốt chua ngọt và vải)
OK, first off, the cautionary note: this is a loooong recipe, and I really mean it. The sauce itself is fairly quick to make (and can be made in advance and kept in the fridge for days); but it's the marinating plus frying of the pork that's really slow, as you have to do it in batches and paying attention all the time….
The traditional recipe is twice-fried: a first time on lower heat to cook the meat through, and a second time to make the batter crispy. You can do this if you wish; I admit that after 2 hours of cooking and prepping, I wasn't really in the mood for an extra batch of meat frying… I'm sure this isn't authentic, but heck, it tastes good and it was nice, so…
(you can also omit the egg white; I put it in because I never what to do with a lonely egg white, but the recipe only called for an egg yolk)
This is one of the reasons I keep ketchup in my fridge (the other is xá xíu ). Otherwise, I actually hardly ever touch the thing!

Thit xot chua ngot va vai: sweet and sour pork with lychees
Author:
Inspired by Irene Kuo
Prep time:
Cook time:
Total time:
A nice and sweet rich dish.
Ingredients
1 pound pork shoulder or pork loin, cubed
¼ cup cornstarch mixed with ¼ cup flour for the batter
Marinade
½ teaspoon salt
2 teaspoons light soy sauce
1 tablespoon sesame oil
1 tablespoon cornstarch dissolved in 1 tablespoon water
1 egg, beaten
Sauce
5 tablespoons sugar
½ teaspoon salt
4 tablespoons rice vinegar
3 tablespoons light soy sauce
2 tablespoons rice wine
3 tablespoons ketchup
1 large clove garlic, lightly crushed and peeled
1 tablespoon cornstarch dissolved in 3 tablespoons water
1 tablespoon sesame oil
½ cup water
1 cup canned lychees, cut in halves
Instructions
Cube the meat, then place in a bowl. Mix the sesame oil with the cornstarch-water mixture. Sprinkle salt and soy sauce all over the meat, then add the oil-cornstarch-water mixture. Add the beaten egg, mix well.
Marinate for at least 30 minutes.
Make the sauce: mix the sugar, salt, rice vinegar, light soy sauce, rice wine and ketchup. In a heavy frying pan or skillet, put a little oil on high heat, then the garlic. Wait until fragrant, then add the sauce mixture previously put together. Slowly stir with a spatula until the liquid comes to a boil. Set heat to low, continue stirring, and add the cornstarch mixture until the thickening begins. Then add the water little by little, still stirring, until the sauce is smooth and bubbly. Turn off the heat.
Fry the meat: put a little oil wok or frying pan on high heat. Wait until it's hot (bubbles congregating rapidly around wooden chopsticks laid in the pan). Drag the meat in the flour-cornstarch mixture, and put it in the pan. Fry in batches until the meat is cooked, and the coating is crisp and golden. Drain on paper towels and set aside.
Assembly: bring the sauce back to a simmer over low heat. If you can, remove the garlic. Turn back to medium heat, scatter the lychees in the sauce and make quick flipping motions with chopsticks or spatula until the fruit are coated with sauce. Turn heat high; scatter the fried meat in the sauce, and tumble it very quickly until it's coated with sauce as well. Turn off heat, and serve.
Notes
This is a very rich dish, and it's worth serving it with something fresh (I usually slice cucumbers to go with it, or some sort of salad, in addition to the rice).
Pineapple, kumquats, or any kind of sweet fruit with a tang would also work nicely (the original recipes was with pineapples, but don't restrain yourself if you only happen to have rambutans...).