Thit kho tau: braised caramelised pork with eggs
A hearty dish for winter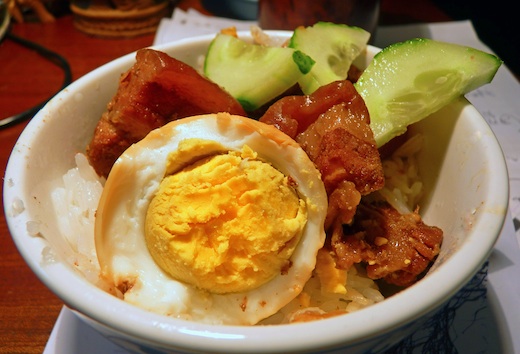 Recipe type: Festival, Main Dish
Cuisine: Vietnamese
Preparation time: 30 mins
Cooking time: 2h 30 mins
Total time: 3h
Serves: 4
Aka thịt kho tàu: braised pork boat (that takes care of the first two words; kind of unsure what "tàu" means, my dictionary suggests "Chinese", which seems a bit odd, but why not. ETA: was contacted by someone who kindly clarified that "tàu" means "boat" in this instance, because the eggs float as if they were boats). This is a classic, hearty family dish that's often part of a Tết spread (along with bánh chưng and other classics); best spooned over rice and with some kind of pickled veggies to offset the richness. Recipe mostly made up through peering at a few posts and at my Vietnamese recipe book.
The traditional version of this uses pork belly, but I thought it was a bit of a fat overdose and went for a mixture of half pork belly half pork shoulder (you do want fatty pieces of the pork though, don't take filet mignon). I also upped the number of eggs to have one per person, but it's purely a matter of taste (the traditional eggs for this are ducks' eggs, which are way smaller and allow people to each have their own!).
You'll need nước màu (caramel sauce) to make this: you can buy it at your local Asian market, but it's far cheaper to make your own. See here for instructions (not for the faint of heart!).

Thit kho tau: braised caramelised pork with eggs
Author:
Aliette de Bodard
Prep time:
Cook time:
Total time:
A hearty dish for winter.
Ingredients
400g pork belly with skin on
400g pork shoulder
1 onion
3 cloves garlic
3 tablespoons nuoc mau (caramel sauce)
2 tablespoons nuoc mam (fish sauce) or to taste
33 cL coconut water
1 teaspoon salt
1 teaspoon pepper
Sugar (to taste)
4 eggs
Instructions
Boil the eggs and peel them (you need to do this in advance, but you can start at around the same time you start slicing the pork). Cut each egg in half lengthwise.
Cut the pork into small, chopstick-sized chunks.
In a cast iron pot or other thick-bottomed pan on medium heat, put the caramel sauce; add the pork, and turn for a few minutes until the meat is coloured. Then add the nuoc mam, onion, garlic, salt, pepper and the coconut water. There should be enough to cover the meat plus about 1 extra cm; add water or coconut water if not the case. Taste and adjust coconut water/nuoc mam/sugar if necessary--depends how sweet you want your meat.
Lower heat to low. Cover, and braise for at least 1h (the longer the better; 2h30 if you have time to spare).
Fifteen minutes before the pork is done, uncover, add the eggs--turning them around to make sure they're coated in the sauce. Leave on low heat for 15 minutes. The sauce should have thickened a bit (but should still be liquid).
Serve over rice and with pickled vegetables.