Thit heo kho: caramel pork
Sweet, rich comfort food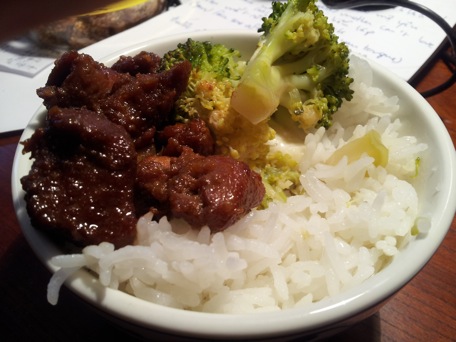 Recipe type: Main Dish
Cuisine: Vietnamese
Preparation time: 40 mins
Cooking time: 30 mins
Total time: 1h 10 mins
Serves: 6
(thịt heo kho, braised pork)
Kho dishes are braised dishes made in claypots, and most of them have nước màu, caramel sauce, added to them for an extra smoky kick. You can do pretty much anything you want as kho, of course, but the iconic dish for me is caramel pork (to be specific, caramel spareribs, but I didn't have spareribs, so I used pork shoulder!) Making the nước màu is a dicey proposition: I have a recipe here that produces more sauce than you need, for reuse, or you can check Wandering Chopsticks for how to make the sauce a few minutes before making the dish. I never could get that method to work for me, but I admit I'm not very very good with sugar and caramel…
Either way, you'll want a thick-bottom saucepan for this. I used my Chasseur cast-iron pot (you can also use an actual claypot of course! I don't do that because claypots on an electric stove are a bit of a bother, plus I tend to break things and claypots are a dangerous proposition at the best of times…).
It's a similar dish to my bastardised caramelised pork though with slightly different flavours. Any time you have to spare can be well used for extra simmering: part of the flavour of the dish is the long cooking time, which lets the meat absorb the caramel sauce.
Author:
Aliette de Bodard
Prep time:
Cook time:
Total time:
Sweet, rich comfort food
Ingredients
750g pork shoulder
3 tablespoons nuoc mam
3 tablespoons nuoc mau (or 3 tablespoons water, 3 tablespoons sugar)
1.5 tablespoon garlic, minced
1 onion
1 star anise
Instructions
Cut the pork into small bite-size pieces. Marinate it in the nuoc mam and the garlic for 30 minutes.
If you don't have nuoc mau: put the sugar and water in a saucepan on high heat for about 10 minutes, until the mixture becomes dark brown. Then add the onion, the star anise and the meat. If you do have the nuoc mau, put it into the saucepan at medium heat, and then proceed as before. Cover, and leave to cook for about 20 minutes.
Then uncover (the pork should be cooked), crank up the heat a bit, and wait about 10 minutes until the sauce thickens as it evaporates.
Serve with rice and a fresh vegetable, like broccoli or green beans.
Notes
If you can't make the nuoc mau (a bit of a fiddly proposition), there is a backup plan that actually works pretty fine, even if it doesn't produce quite the same results. Put the water, and the sugar in the saucepan without trying to make caramel, and add the meat, onion and star anise. Follow the recipe until you take off the lid. Then, crank up the heat just a little more (to raise the sugar temperature), until your sauce caramelises. It'll be less good (since the pork won't have cooked in the sauce), but it's a handy way to salvage a recipe that can be a bit tricky!