Thit bo ruoc sa: minced beef with lemongrass and shrimp paste
A nice and sweet dish.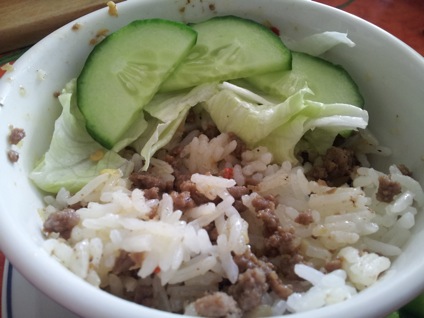 Recipe type: Main Dish
Cuisine: Vietnamese
Preparation time: 10 mins
Cooking time: 40 mins
Total time: 50 mins
Serves: 4-5
(aka thịt bò ruốc sả)
Aka what I did when I had too much lemongrass in my fridge. This is a variant of a Vietnamese dish. The original doesn't use minced meat–I don't think minced beef is a great hit in Vietnamese cooking, as a general rule… But I also had spare minced meat, as you probably guessed. Any tender part of the animal will do if you don't want/don't have minced meat. This is a bit of a heavy dish in terms of flavour, so it goes well with refreshing vegetables (here, salad and cucumber, but you could subsitute with, say, broccoli or bok choy, or anything that doesn't reek too violently of winter dishes).
Mắm ruốc, fermented shrimp paste, is one of those Vietnamese condiments that quickly makes your entire fridge smell fishy. But here its taste is sublimed by the cooking process, and the resulting dish has a nice shrimpy kick without actually retaining the strong smell (something that could also be said for nước mắm and a host of other condiments!).

Thit bo ruoc sa: minced beef with lemongrass and shrimp paste
Author:
Aliette de Bodard
Prep time:
Cook time:
Total time:
A nice and sweet dish
Ingredients
500g minced beef
4 stalks lemongrass
3 teaspoons mam ruoc, fermented shrimp paste
1 onion, minced
1 teaspoon nuoc mam
Salt, pepper, sugar, chillies
Instructions
Discard the upper two thirds of the lemongrass stalks, cut away the bottom part, and mince the rest very fine. Mince the onion.
Mix the mam ruoc with warm water until you have a paste.
On high heat, fry the onion in oil until fragrant. Add the lemongrass and fry until the onion is cooked. Add the meat. Add salt and pepper to taste, and cook until it becomes brown.
Add the mam ruoc and mix thoroughly. Cover and simmer for a bit, then add the nuoc mam. Taste: it should be a bit salty but mostly sweet. If it's not sweet enough, add some sugar. Add some chillies to taste (ie according to your level of tolerance to heat).
Serve hot with rice, cucumber and salad.