Sweet potato cakes with salmon and cream sauce
Sweet and fresh at the same time, a great (if not healthy) finger food.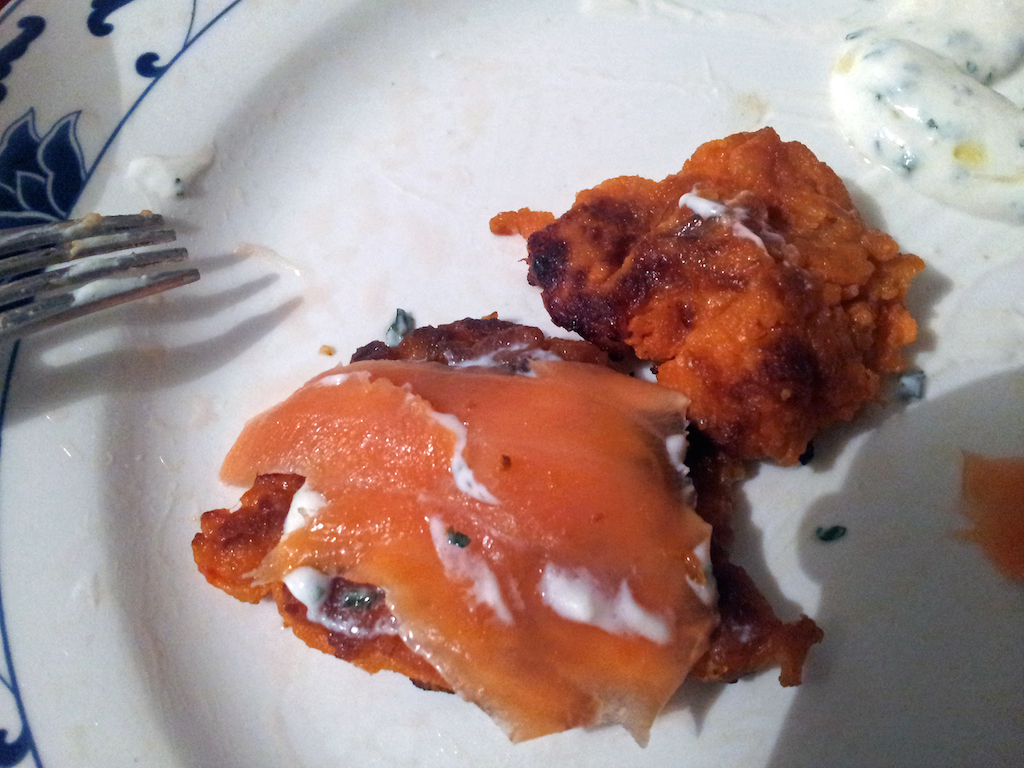 Recipe type: Buffet Food, Main Dish
Cuisine: Fusion
Preparation time: 20 mins
Cooking time: 1 h
Total time: 1h20 mins
Serves: 4
Inspired by a recipe in Yotam Ottolenghi's Plenty, a pretty good cookbook focused on vegetable-based and vegetarian fares. Mostly, I find the recipes are great inspiration, but always a bit fiddly, and this was no exception. The cakes had a tendency to fall apart, and also (like anything sweet) to go from a nice crust to a charred mess in instants. But the end result was delicious, and well worth eating. We ate as a main dish, but I think it'd make great canapés for a buffet.

Sweet potato cakes with salmon and cream sauce
Author:
Aliette de Bodard (inspired by Yotam Ottolenghi)
Recipe type:
Main, Buffet
Prep time:
Cook time:
Total time:
Sweet and fresh at the same time, a great (if not healthy) finger food.
Ingredients
Cakes
1kg sweet potatoes
100g flour
2 tablespoons soy sauce
1 teaspoon salt
3 shallots, chopped
1 teaspoon chilli garlic sauce
Frying oil
Sauce
250g yoghurt or soy yoghurt
1 tablespoon olive oil
Coriander or mint
Garnish
Smoked salmon or smoked trout
Instructions
Steam the sweet potatoes until cooked, and set aside.
Mix all the cake ingredients together, and then add the sweet potatoes. Then mash and mix (an old fashioned hand masher is pretty good for this). The mixture should be clingy; you might have to adjust the flour levels a bit, as the flour gives this cohesion the sweet potatoes lack.
Heat up the oil in a wok on medium heat. Take a heaped tablespoon of filling, and put it in the oil. Fry for 6 minutes on both sides, or until you have a nice golden crust. (the patties will drink the oil. It's normal. This isn't a healthy dish by any stretch of the imagination). Drain on paper towels.
Meanwhile, mix the sauce ingredients together, and leave them to rest for a bit.
To eat, put a cake, a dollop of cream, and a bit of fish on top of it. Enjoy the sugar overdose 🙂
Notes
Other smoked fish should work well with this recipe (salmon is a classic, but I have a suspicion something more salty like haddock would actually be a better contrast to the general sweetness).