Stuffed mushrooms with grated cheese
Winter vegetables put together in a scrumptious dish.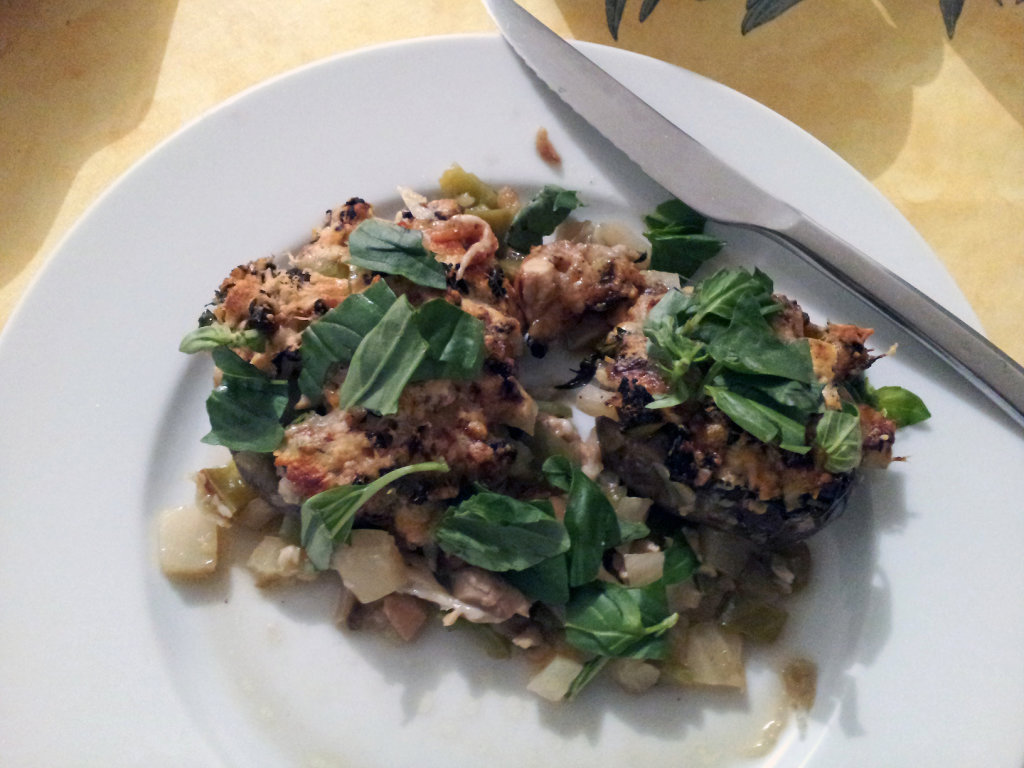 Recipe type: Main Dish, Vegetarian
Cuisine: Fusion
Preparation time: 20 mins
Cooking time: 20 mins
Total time: 40 mins
Serves: 3
(inspired by this Ottolenghi recipe, though I changed so much with it might as well be a new recipe, really…)
We had some cheese leftovers in the fridge, which is the rational explanation why I started looking into ways to recycle it. Afterwards, I got a little creative with the recipe I found online, because it didn't correspond to the ingredients I had in my fridge. It turned out quite good, actually 🙂

Stuffed mushrooms with grated cheese
Author:
Aliette de Bodard
Prep time:
Cook time:
Total time:
Winter vegetables put together in a scrumptious dish.
Ingredients
6 large white mushrooms
1 red pepper
1 fennel bulb
1 shallot
2 garlic cloves, diced
50g parmesan cheese
100 g emmenthal
4 stalks basil leaves
Provence herbs, dried
100 g cooked chicken (optional)
Instructions
Wash the mushrooms. Remove the stems from the mushrooms and chop them into fine pieces. Dice the pepper and the fennel. Slice the shallots thin. Grate the cheeses.
In a frying pan on medium heat, put some oil and the shallots and fry until fragrant. Then add the fennel, pepper and mushroom stalks, and cook until done (10 minutes). Meanwhile, pre-heat oven to 180°C.
When the vegetables are done, fold in the chicken and the garlic.
In a big baking dish, put the mushrooms stalk-side up, and stuff them with the vegetable/chicken mixture. You'll probably have too much vegetable mixture: pile it on the side of the mushrooms. Sprinkle with Provence herbs and half the basil leaves. Put in the oven and cook until the mushrooms are starting to soften (about 10 minutes).
Then add the cheese, switch oven to the broiler, and broil until the cheese has become brown (gratiné).
Serve hot, with a salad or cucumber on the side and extra bread. Each guest can sprinkle his share of torn basil leaves on top of their stuffed mushrooms.