Quick and dirty chicken soup
A quick and easy chicken soup.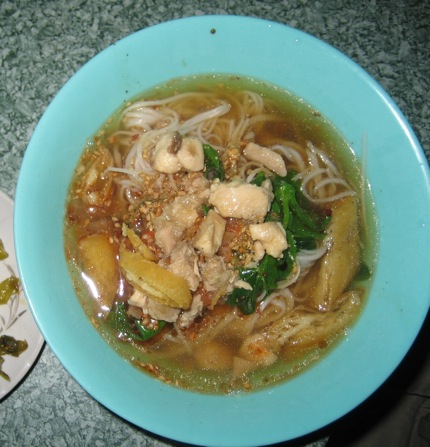 Recipe type: Soup
Cuisine: Fusion, Vietnamese
Preparation time: 5 mins
Cooking time: 10 mins
Total time: 15 mins
Serves: 2
(picture taken by Wagaung, used under under the Creative Commons Attribution-Share Alike 3.0 Unported license;  a stock placeholder image from Wikipedia that sort of looks like the final product)
And back to some cooking experiments. This is what I made yesterday with our leftover grilled chicken, which badly needed sprucing up. Mostly made it through a combination of leafing through a cookbook and what I had on my shelves (it started out as some kind of Singaporean soup, but then I didn't have the crab or the pork or the shrimps, and I tossed out ingredients of the list at a high clip while replacing them with stuff in my fridge. The final product has no resemblance whatsoever to the recipe I was reading).
I have no pictures because it was late and I was tired, and dragging a soup bowl full of piping-hot soup to my desk–where the best lamp for pictures is–looked likely to cause a local flood. Sorry.

Quick and dirty chicken soup
Author:
Aliette de Bodard
Prep time:
Cook time:
Total time:
A quick and easy chicken soup.
Ingredients
Soup Base
150g chicken, cooked, and shredded
2 nests egg noodles
8 cups water
1 tablet instant chicken/vegetable broth (dosage for 2 cups, YMMV. I used one tab of the Knorr organic vegetable bouillon; it's not on their website as it's probably a Europe-only product, but the vegetable broth on the US website sounds very similar)
3 cloves garlic
1 0.5cm-thick (0.2") nub of ginger
1 tablespoon nuoc mam
1 teaspoon five spice
1 tablespoon toasted sesame oil
Garnish
8-10 fresh coriander stems, loosely chopped
3 spring onions, green part only, chopped into rings (optional)
Instructions
In a saucepan, heat the water until it boils.
Meanwhile, finely grate the garlic and the ginger. Put a frying pan on the stove, some oil, and fry the mixture until it turns golden.
Add the garlic-ginger mixture, the chicken, and the tablet of instant broth into the water.
Adjust the heat until you have a high persistent simmering (bubbles shooting to the surface regularly, but water not yet boiling in great gouts). Mix gently until the tab is dissolved. Add the nuoc mam, the five spices. Taste and adjust; it should be salty with a kick, but not too much.
Leave everything to mingle together for about 5 minutes.
Put the noodles, and wait for them to cook.
Add the sesame oil, mix well, taste and adjust with more nuoc mam if needed. Lower the heat.
Prepare two soup bowls as follows: half the coriander and half the spring onions. Then serve half the soup in each.