Pumpkin soup with coconut milk
Pumpkin! Coconut! Spices!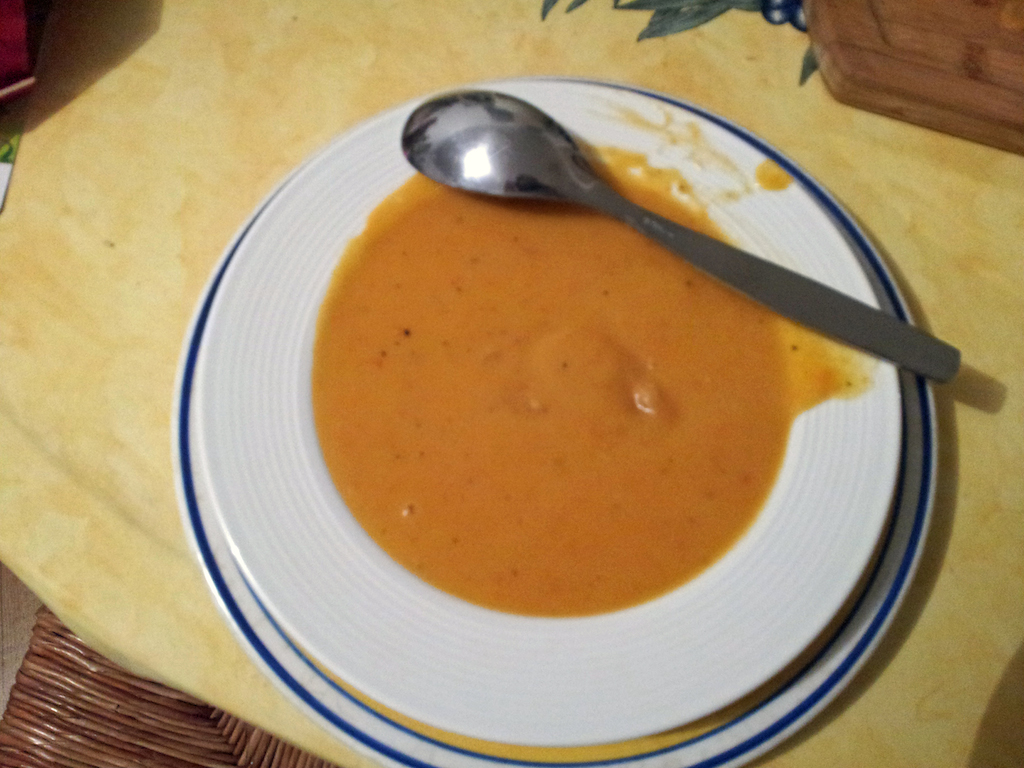 Recipe type: Appetiser
Cuisine: French
Preparation time: 10 mins
Cooking time: 40 mins
Total time: 50 mins
Serves: 4
(sorry, it's kind of hard to make soup look good. I'd have added coriander or mint if I had it, but the fridge was a bit bare)
I bought pumpkin a while ago, intending to make a soup. I had originally been counting on the H; except that when I got around to it tonight (along with testing my new Braun hand mixer), the H said, "sure, I know a recipe. But it's made with milk". Arg. Not for lactose-intolerant me, then. I tried googling a few other recipes to no avail. Finally ended up making up one. This was very much driven by the fact that we had coconut milk in the cupboard (got a batch of 6 250mL cartons from the Chinese district), and by the spices that I could find (the original recipes suggested nutmeg and paprika, which go well with milk but atrociously with coconut milk).

Pumpkin soup with coconut milk
Author:
Aliette de Bodard
Prep time:
Cook time:
Total time:
Pumpkin! Coconut! Spices!
Ingredients
700g pumpkin
4 potatoes, roughly same weight as pumpkin
250mL coconut milk
2 teaspoons chicken powder (or the equivalent amount in bits of ouillon cube)
1.5 teaspoon ground ginger (or to taste)
1.5 teaspoon curry (or to taste)
Dash of pepper
Instructions
Chop up the pumpkin into small pieces, and peel it (I suggest that order because it's easier to peel a pumpkin when reduced into smaller pieces). Peel the potatoes and chop them into small pieces.
In a saucepan, put the pumpkin pieces and the potato pieces. Add just enough water to cover. Add the chicken powder. Bring to a boil, then lower heat to simmering. Also use this opportunity to give a good whirl to the soup, to dissolve the chicken powder in the water if not already done. Wait 30 minutes until potatoes are cooked.
Then blend everything with the hand mixer. Withdraw from fire and add coconut milk. Add the spices. Taste and adjust: it should be creamy with medium spiciness.
Plate and serve warm.
Notes
A sprig of coriander or of mint would go well with this soup.