Pasta bolognese
An Italian classic--with a kick!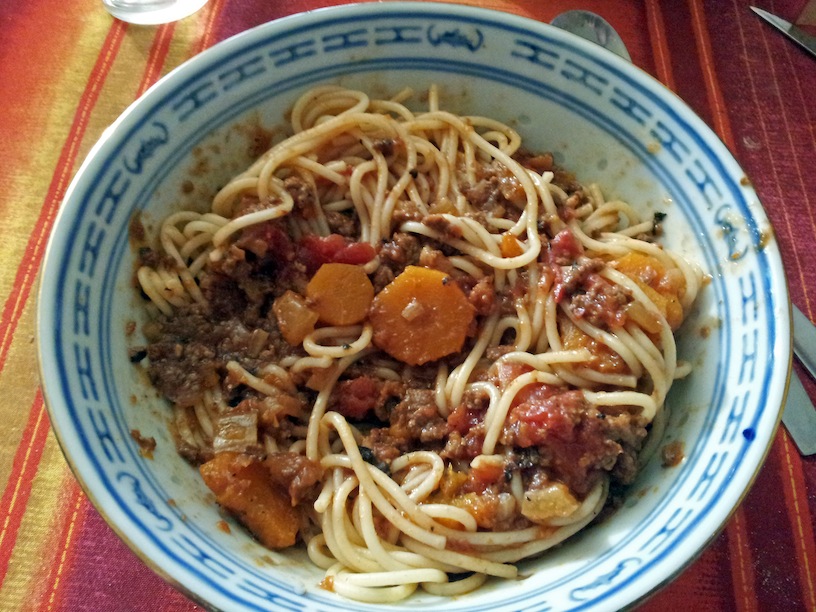 Recipe type: Main Dish
Cuisine: Fusion, Italian
Preparation time: 5 mins
Cooking time: 40 mins
Total time: 45 mins
Serves: 4-6
Time for a classic…
Variant of a recipe found in The Virgin Student Cookbook (Beverly LeBlanc): I basically tweaked the veggie quantities, and added some chilli sauce to give the sauce a little extra twist (the original recipe used wine, which we don't have in the house).
The H isn't a fan of chilli, so this is just a teensy bit spicy–if you like your food hotter than that, you might want to throw in extra chilli garlic sauce.

Pasta bolognese
Author:
Aliette de Bodard
Prep time:
Cook time:
Total time:
An Italian classic--with a kick!
Ingredients
1 carrot
1 onion
2 garlic cloves
1 tablespoon olive oil
300g minced beef
1 tablespoon plain flour
2 cans (800g) chopped tomatoes
1 tablespoon ketchup
1 tablespoon chilli garlic sauce (I used Lee Kum Kee's, which has the advantage of being mild. Your milage might vary here)
1 teaspoon mixed herbs
dash of salt
dash of pepper
Instructions
Chop up the carrot and the onion into smallish pieces.
In a large pot, put the olive oil, the carrot and the onion on medium heat, and let everything fry for about 8 minutes, until the carrot is tender.
Chop up the garlic very finely; add the beef and the garlic, and stir in until the beef is cooked (a few minutes).
Sprinkle the flour over the beef, and stir it in until it's been absorbed by the mixture.
Add the canned tomatoes with their juice, the ketchup, the mixed herbs, the chilli garlic sauce, and finally salt and pepper to taste. Stir in everything.
Put heat on low setting and let the whole thing simmer for about 20-30 minutes, until the extra liquid has evaporated and the sauce has become thick.
Serve with pasta and grated parmesan.