Panzanella
A nice salad for summer days.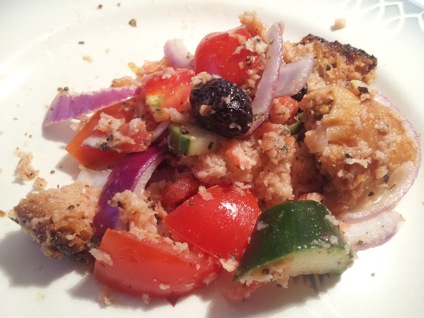 Recipe type: Appetiser
Cuisine: Fusion, Italian
Preparation time: 15 mins
Cooking time: 30 mins
Total time: 45 mins
Serves: 4
So one of the things we're (half-heartedly) trying in our house is to reduce the consumption of meat, and of red meat in particular. Both for health reasons, and for sustainability issues (it costs a lot more resources to grow produce to feed an animal than to harvest said produce directly!). One of the recent tries was this panzanella salad, a Florentine delicacy modified by way of Hugh Fearnley-Whittingstall's Veg: River Cottage Every Day (borrowed from Al Robertson and Heather Lindsey's bookshelves while I was staying at their place). Recipe was basically memorised and liberally adapted. It's probably as Florentine as me by now… But it's quite good, and quite filling.
(picture without basil leaves, but I *highly* recommend not skipping that ingredient, as it definitely gives a lot more flavour to the salad!)
Panzanella
Author:
Hugh Fearnley-Whittingstall
Prep time:
Cook time:
Total time:
A nice salad for summer days.
Ingredients
300g day-old ciabatta or country bread
8 large ripe tomatoes
4 tablespoons olive oil
2 tablespoons rice vinegar
1 red onion
1 cucumber
24 black olives
-Fresh basil leaves
-Salt, pepper and sugar
Instructions
Save the two largest of the ripe tomatoes. Take the other six, and mash them to a pulp in a bowl with your hands. Then take a strainer, and press the tomato fragments through it to retrieve the juice, discarding the skin and pips. Add the oil, the vinegar, and sprinkle liberally with salt and pepper (if the tomatoes are not quite ripe enough, you might want to consider a dash of sugar).
Tear the bread into small-to-medium pieces with your hands, and pour the juice over it. Mix until the bread has absorbed the juice. It should be moist but not soggy.
Take the pips out of the cucumber, and slice it into half-moon shapes. Slice the onion into rings. Cut the remaining tomatoes in small bits.
Put cucumber, onion, olives and tomatoes into the salad. Leave for 20-30 minutes on the counter, so that the flavours mix together (and the bread has time to get thoroughly drenched in juice). Serve.
Notes
The vinegar in this can be replaced with cider vinegar or another mildly-flavoured vinegar (and possibly by a dash of balsamic vinegar, though with precautions).
If you're not a fan of raw onions (I know the H finds them too aggressive), you can heat up the onion rings for a bit on a hot stove (either by frying them for a bit, or by dumping them into hot water for 30 seconds. I prefer to fry them, as I find blanching them leaves them a bit soggy).