Nem nuong: barbecued minced pork patties
Classic Vietnamese meat patties.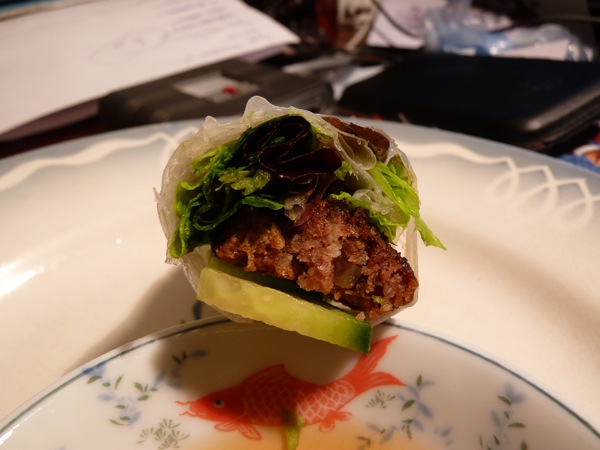 Recipe type: Buffet Food, Rolls, To Go
Cuisine: Vietnamese
Preparation time: 2 h
Cooking time: 20 mins
Total time: 2h 20mins
Serves: 4-6
Aka nem nướng. There are a lot of ways to do this: notably, whether you put baking soda in or not (baking soda makes it more bouncy, but I'm not a big fan of using it). The traditional version of this involves pounding the meat into a paste, either by hand or with a food processor. Given how easy it is to get minced meat, though, I feel like I'd rather spend more time eating than following tradition, even if it means the feeling of the meat will be a little off compared to the traditional version.
(hum, OK. Looking in my Vietnamese cookbook suggests that what I mean by "traditional version" might be off, since the recipe includes shrimp and what looks like two cuts of pork I can't quite identify, in addition to a banana and a starfruit…)
(recipe adapted from Bach Ngo's The Classic Cuisine of Vietnam)
For the dipping sauce: see here for nước chấm and here for nước lèo.

Nem nuong: barbecued minced pork patties
Author:
Adapted from Bach Ngo
Prep time:
Cook time:
Total time:
Classic Vietnamese meat patties.
Ingredients
500g minced pork
2 cloves garlic
2 shallots
½ teaspoon salt
½ teaspoon sugar
Sprinkling of pepper
2 tablespoons thính, roasted rice powder (see below)
For dipping: Nước mắm or nước lèo
Instructions
Chop up the garlic and the onions.
Mix everything (except the dipping sauce!) into a bowl, and let the mixture rest for 2 hours.
Pre-heat the oven to 180°C.
Shape one tablespoon of mixture into a flat patty, and put it on aluminum on the oven grate. Repeat until you run out of meat.
Put the oven on broiling mode, and grill for 10-15 minutes, until brown. Then turn the patties over, and grill the other side.
Serve with rice papers, salad, soy and a selection of herbs (coriander, rau ram, mint,red perilla, hung que/Thai basil...): each guest takes a rice paper, dips it in water, and lays it on the table. Then they add meat, salad, soy, and whatever herbs they feel, before rolling into a cylinder shape. Dip into nước mắm, and enjoy!
Notes
To make roasted rice powder, take two tablespoons of rice grains, and put them on a frying pan on medium-high heat. Keep stirring the grains until they turn golden, then immediately take the pan off the heat (the rice will continue cooking for a few moments, until it cools down, so you don't want the powder burnt). Then grind to as fine a powder as you can manage, either with a spice mill or a mortar and pestle.