Lemongrass panfried chicken
Roasted chicken. Lemongrass. What's not to like?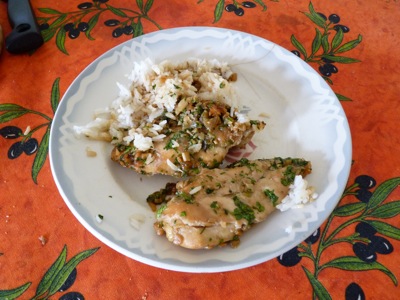 Recipe type: Main Dish
Cuisine: Vietnamese
Preparation time: 1h 10 mins
Cooking time: 40 mins
Total time: 1 h 50 mins
Serves: 4-5
We had two lemongrass stalks leftover from a previous meal, and I was looking for a way to use them. Ended up making lemongrass chicken, which tasted awesome. So before I forget how I came to this result, here's the lowdown.
The recipe is a mix between two Lemongrass Roasted Chicken recipes: one from Wandering Chopsticks' blog, and the other from Mai Pham's Pleasures of the Vietnamese Table. They both used a whole chicken, which I couldn't find at this time of the year (usual provider on holiday, as befits the month of August), so I made do with chicken breasts.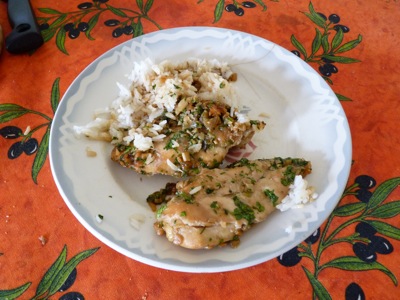 Lemongrass panfried chicken
Author:
Aliette de Bodard
Prep time:
Cook time:
Total time:
Roasted chicken. Lemongrass. What's not to like?
Ingredients
4 boneless chicken breasts (about 400-500g)
5 small onions, or 1 large onion (I used the bottom part of 5 scallions, though the ones I bought had bulbs double the size of "standard" Asian scallions)
2 stalks lemongrass, minced
5-6 garlic cloves, minced
2 tblsp. fish sauce
2 tblsp. sugar (or 1 tblsp. sugar, 1 tblsp. honey)
2 tblsp. soy sauce
1 tsp. salt
3-4 tblsp. fresh chopped coriander
Instructions
Combine all the ingredients except the coriander and the chicken. Put the chicken in the marinade--if you have time, leave it for 1 hour in the fridge. If you don't, then skip this part.
Pre-heat oven to 180-200°C (thermostat 6-7), put the chicken and about half the marinade, and let it cook for 20 minutes, until top part is starting to turn golden. Then turn chicken over, brush with rest of marinade, and cook for another 20 minutes until golden.
Sprinkle coriander on top of the finished product, and serve with steamed rice.
There you go. Shiny and yummy.