Ga ngu vi huong, five-spice grilled chicken
Tasty and gingery.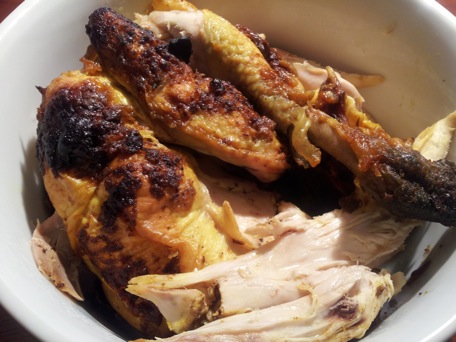 Recipe type: Festival, Main Dish
Cuisine: Vietnamese
Preparation time: 24 h
Cooking time: 1 h
Total time: 25 h
Serves: 8 +
(aka gà ngũ vị hương)
I have been busy with various other projects (and wrestling with RL!), and somewhat neglecting this blog… Still working on a short story and trying to make it behave, but in the meantime here's a recipe to tide you over. This was inspired by one of Mai Pham's recipes in Pleasures of the Vietnamese Table, albeit a bit modified to actually grill the chicken. It requires planning a bit in advance since you'll basically be marinating the chicken with its skin on, which takes quite a bit of time.
The chicken in the picture was cooked in our oven's rotisserie, but you can also roast the chicken in a dish in your oven (I'm no expert in roasting chicken–the only way I know that works involves cutting the chicken in half; feel free to chime in if you've got better ideas!). It's best served with a dipping sauce (I used nuoc cham, but you can also make a ginger and lime dipping sauce)

Ga ngu vi huong, five-spice grilled chicken
Author:
Adapted from Mai Pham
Prep time:
Cook time:
Total time:
Tasty and gingery
Ingredients
1 whole chicken, roughly 2kg
3 tablespoons vegetable oil
2 tablespoons soy sauce
3 tablespoons minced ginger
2 tablespoons minced garlic
2 tablespoons sugar
2 teaspoons ground turmeric
1 teaspoon Chinese five-spice powder
½ tablespoon sea salt
4 whole star anise, lightly toasted in a dry pan for 3 minutes, pounded or ground into a fine powder
Instructions
Mix all the ingredients together except the chicken.
Rinse the chicken under running water and pat it dry with paper towels.
If you don't have a rotisserie in your oven, cut the chicken in half and slather it in marinade. Rub well so that the spices penetrate. If you do have a rotisserie, keep the chicken whole, and rub it all over with the marinade, making sure to save about half the marinade to insert between the legs as deep as you can. Insert the spit now if you're using a rotisserie, since it'll save you trouble later on...
Put the chicken in the fridge to marinate overnight (or at least 7-8 hours).
When ready to cook, either:
Pre-heat oven to 220°C. Put the chicken in a shallow pan, skin side down, and bake at 220°C degrees for 15 minutes. Then flip so the chicken is skin side up and bake at 170°C for 25 minutes. Check that the flesh is tender and the juices run clear, and you're done.
OR Put the chicken on a spit in the oven at rotisserie setting and cook for about 1h, until the flesh is tender and the juices run clear.
Serve with a dipping sauce, and rice or tomato rice (tomato rice is basically day-old rice with tomato paste, fish sauce and garlic. I might get around to posting a recipe at some point, but in the meantime you can find recipes at Wandering Chopsticks, for instance).
Notes
The original recipe added the star anise at the last minute before cooking; I didn't because it's a bit troublesome to stuff marinade into the chicken after you've put it on the spit and are all but ready to bake it.