Ga kho gung: braised chicken with ginger
A fiery gingery dish for those long winter months.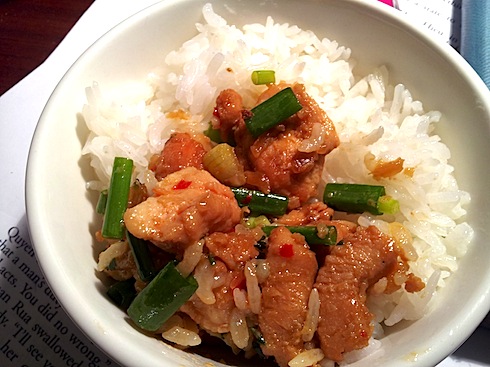 Recipe type: Main Dish
Cuisine: Vietnamese
Preparation time: 10 mins
Cooking time: 40 mins
Total time: 50 mins
Serves: 4-5
(aka gà kho gừng, braised chicken with ginger. The scallions and coriander are well worth adding, as they put in a note of freshness the dish is sorely lacking otherwise. I cooked mine in a covered wok because I'm lazy, but if you have a spare claypot, it's also nicer to let the flavours develop. One of the adjustments I made to the recipe was lengthening cooking time, as there's hardly any point in braising something for 5 minutes…)
Ga kho gung: braised chicken with ginger
Author:
Aliette de Bodard (adapted from Pham Mai)
A fiery gingery dish for those long winter months
Ingredients
500g chicken, cut into bite-size chunks
2 garlic cloves, minced
¼ yellow onion, thinly sliced
1 teaspoon chilli garlic sauce
1.5 tablespoon fish sauce
2 teaspoons sugar
Pinch of salt
½ cup chicken stock or vegetable stock
2 teaspoons nuoc mau (caramel sauce)
2 scallions, cut into 2-inch length
Cilantro
Instructions
Cut the ginger, garlic and onion into small bits.
In a wok over high heat, put in oil, ginger, chilli-garlic sauce, garlic, onion and stir until fragrant.
Add the chicken, fish sauce, sugar, and salt. Stir for 2-3 minutes until barely cooked. If using a claypot, transfer the whole into it.
Add the chicken stock and the caramel sauce. Cover and cook for 30 minutes, maintaining a low simmer (you can cook for longer if you want to let the tastes develop. I usually have no time). Uncover, cook for 5 minutes until the sauce is thickened. Add the scallions and cilantro, and remove the pot from the heat.
Serve hot with rice and a vegetable (green beans is a nice idea).