Dui ga sa: lemongrass chicken thighs
A pungent dish, perfect for those summer barbecues.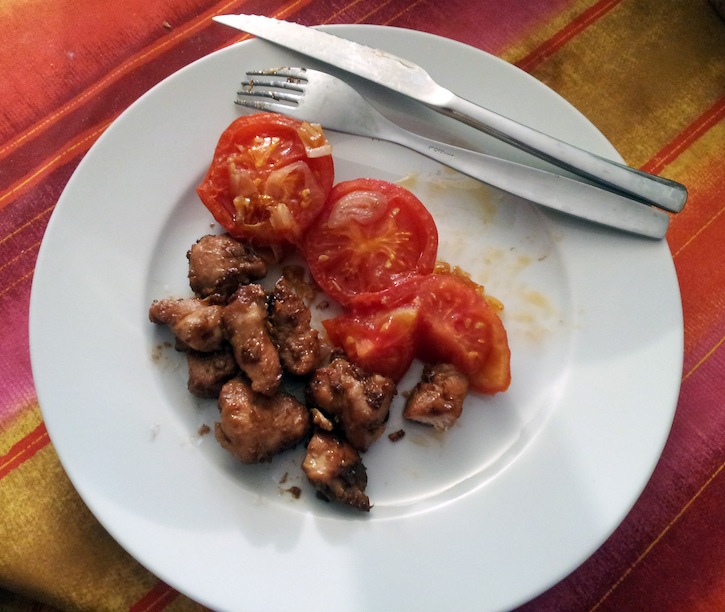 Recipe type: Main Dish
Cuisine: Vietnamese
Preparation time: 2h 30 mins
Cooking time: 30 mins
Total time: 3 h
Serves: 3-4
(aka đùi gà sả)
This is a classic of Vietnamese/Chinese takeaways in France: a slightly sweet mixture of chicken and lemongrass threaded on skewers and grilled for better flavour. I didn't actually have a grill handy, so ended up doing this on my stove; and also didn't have actual chicken thighs so replaced them with breasts (and how did you guess, I didn't have skewers either. Still tastes good, believe me!). The minimum marinating time is 2h, but this benefits from a little more if you can afford it.
Dui ga sa: lemongrass chicken thighs
Author:
Aliette de Bodard
Prep time:
Cook time:
Total time:
A pungent dish perfect for those summer barbecues
Ingredients
2 thighs chicken, deboned (or 2 chicken breasts)
2 tablespoons oil
1 tablespoon honey
1 tablespoon sugar
1 shallot, minced
2 stalks lemongrass, minced
0.75 tablespoon rice vinegar
2 garlic cloves, minced
3 tablespoon fish sauce
Big dash of pepper
Instructions
Cut the upper two things of the lemongrass stalks (if applicable, remove leaves). Remove outer layer of lower third. Mince the rest into very small pieces. Mince the shallot and garlic. Mix everything but the chicken together to obtain the marinade.
Cut the chicken into medium pieces (think skewers). Then put pieces in marinade and leave to marinate in fridge for at least 2 hours (overnight if possible).
Grill until cooked.
Or heat up a wok on a stove on medium heat; put a dash of oil, the chicken and marinade in the wok, and cook covered until the chicken is done. Then crank the heat up and wait for the marinade to caramelise, turning the chicken so that it is coated in caramelised marinade.
Serve with rice and with a tart/fresh vegetable (tomatoes, broccoli...).