Duck Magret
A quick and delicious way to prepare duck magret.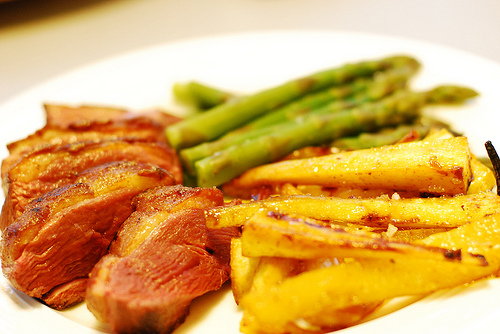 Recipe type: Main Dish
Cuisine: French, Fusion
Preparation time: 40 mins
Cooking time: 15 mins
Total time: 55 mins
Serves: 4
We had a friend over for dinner, and cooked a delicious duck magret [1]. If anyone is interested, here is the recipe. It actually feeds four people rather than three.
(generic pic off Flickr which looks like our magret–I was hardly going to stop while serving the food and take pictures–friend would have looked at us very oddly)

Duck Magret
Author:
Aliette de Bodard
Prep time:
Cook time:
Total time:
A quick and delicious way to prepare duck magret
Ingredients
2 duck magrets (350-400g total)
2 tablespoons liquid honey
2 tablespoons toasted sesame oil
Instructions
Carve grooves into the magrets with a knife, to let the marinade penetrate better, and marinate for about 30 minutes.
Fish the meat out, set it in a frying pan over medium heat for 3-4 minutes on each side, until the pan is full of grease. Pour out the grease, deglaze the pan with a little hot water, and put the meat back in, as well as the marinade. Wait a few minutes for the sauce to thicken.
Grill 2 tablespoons sesame seeds in a dry pan over high heat (careful, they burn fast).
Slice the meat in small, artistic amounts, and serve with the sesame seeds and a little of the sauce.
This goes wonderfully with homemade mashed potatoes.
---
[1]Not Thanksgiving fare, I know, but then I don't exactly celebrate. I hope everyone who is celebrating is having a fabulous time, though.