Couscous
Classic and copious Maghrebin dish.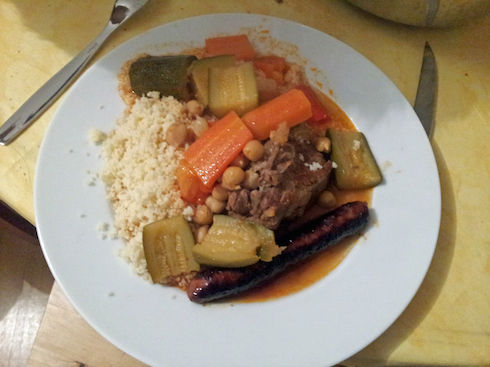 Recipe type: Main Dish
Cuisine: Moroccan
Preparation time: 10 mins
Cooking time: 50 mins
Total time: 1 hour
Serves: 5-6
My version of the Maghrebin dish–authenticity dubious, as I mixed and matched (and don't have ras el hanout or harissa at home). But it tastes pretty good, and I can make it with the spices in my cupboard!
Couscous
Author:
Aliette de Bodard
Prep time:
Cook time:
Total time:
Classic and copious Maghrebin dish.
Ingredients
3 zucchini
10 small turnips (optional; didn't have them so replaced by the peppers below)
2 large red peppers
3 carrots
400g chickpeas, cooked or canned
195g cooked tomato sauce
1 teaspoon chilli garlic sauce
1.5 teaspoon instant chicken broth
3 tablespoons extra virgin olive oil
Olive oil
5 large pieces neck of lamb or neck of mutton
5 merguez sausages
spice mix, equivalent to two tablespoons: 1 dash each of ground coriander, cinnamon, black pepper, ginger, cardamom, curcuma, capsicum, and 1 teaspoon of fenugreek
semolina (80 to 120g per person depending on appetite of guests).
Instructions
Dice the carrots into very large pieces (cut in 4 lengthwise, and cut each piece in 2 along the width); dice the peppers very roughly. Reserve.
In a pressure cooker, put the olive oil and the lamb. Brown on all sides for 3-4 minutes.
Then add 1L of water, the carrots, peppers (and turnips if using), tomato sauce, chilli garlic sauce, the spice mix and the chicken broth. When the pressure cooker has been brought to pressure, cook 25 minutes.
Then add the chickpeas and the zucchini, and cook for 10 minutes after the pressure has been reached again.
Stab the merguez with a fork or sharp knife to let out the fat, and grill them in a frying pan on medium heat.
Serve with semolina: in a plate put the semolina, a merguez and a piece of neck of lamb, and douse in vegetables and sauce.