Chocolate and pineapple brownies
Chocolate. Pineapples. You'd think they wouldn't go together. You'd be wrong.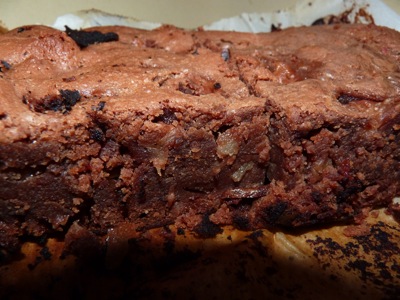 Recipe type: Cake, Dessert
Cuisine: French
Preparation time: 20 mins
Cooking time: 20 mins
Total time: 40 mins
Serves: 6-8
Aka the recipe I made when I found myself with an extra can of pineapple and some leftover chocolate. You would think that the pineapple would not go well with the chocolate–but it does, trust me. It's actually a very yummy combination, the pineapple bringing the moisture and sugar that the chocolate lacks.

Chocolate and pineapple brownies
Author:
Aliette de Bodard
Prep time:
Cook time:
Total time:
Chocolate. Pineapples. You'd think they wouldn't go together. You'd be wrong.
Ingredients
100 g dark chocolate
1 can pineapple slices (340g, 10 slices)
120g sugar (be prepared to throw in some of the juice from the can if the mixture's too liquid, or to adjust the flour if it's too dry)
140g flour
1 bag vanilla sugar (8g sugar and a dash of vanilla extract otherwise)
2 eggs
125g butter
Instructions
Pre-heat oven to 180°C (gas mark 6)
Melt the chocolate and the butter, let the mixture cool down for a bit.
Meanwhile, dice the pineapple slices into smallish bits (I go for the width and length of my fingertip).
Mix the sugar, vanilla sugar, and the eggs. When the above chocolate-butter mixture has cooled down, add it and mix everything until the dough is smooth.
Prepare a low cake mould by brushing its sides with a little butter and a little flour. Pour the dough into it.
Cook for around 20 minutes: the cake should be still moist.